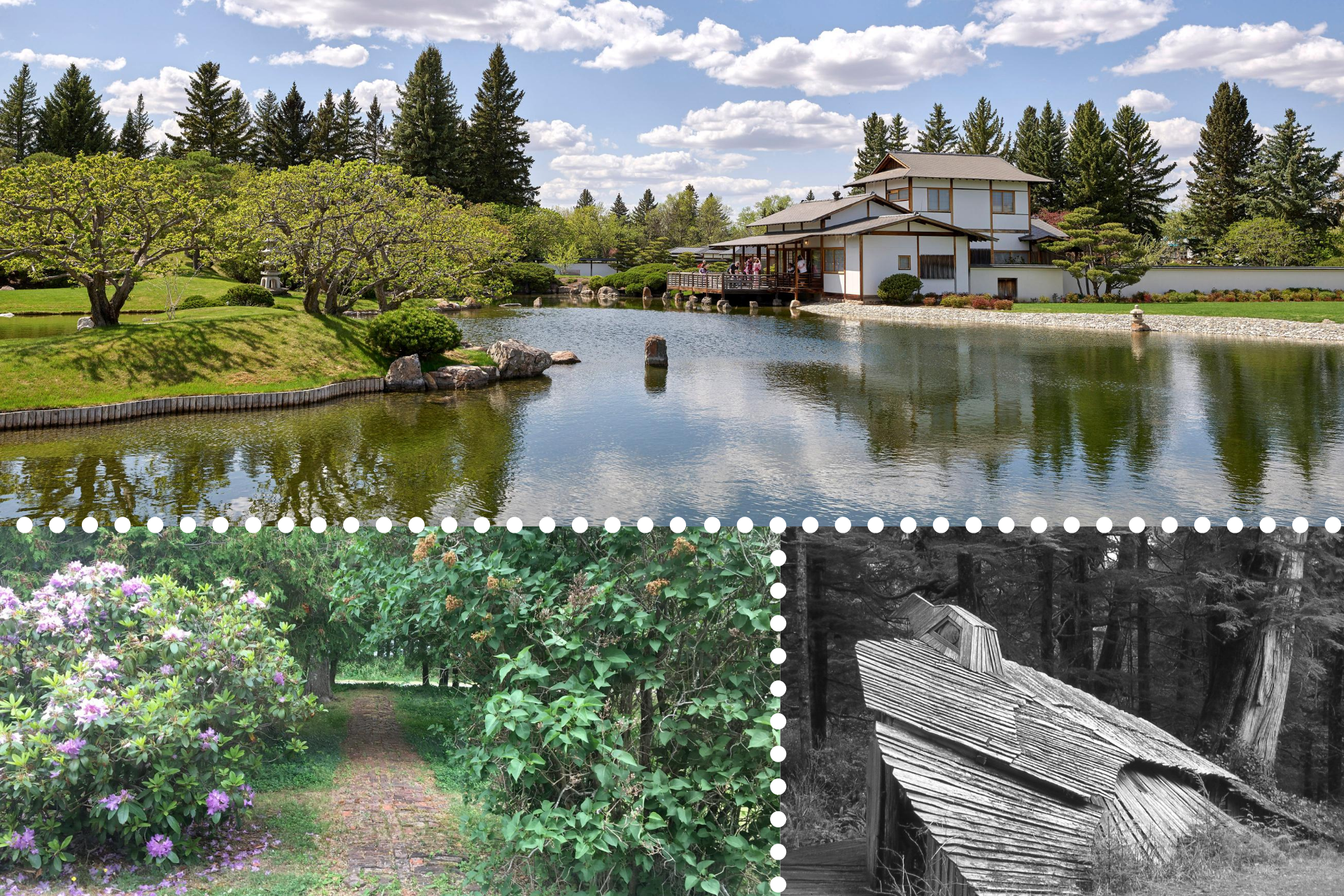 Nine inspiring historical gardens across Canada
Many think of Canada as a land of big-sky landscapes—huge forests, deep oceans and towering mountains. However, it's also a country where gardeners have long had the urge to tame the wilderness with climbing roses and flowering fruit trees, herbaceous borders and manicured shrubs.
Creating gardens here can be an adventure. Icy winters, humid summers, rocky soil, stiff sea breezes and intricate tree roots all pose challenges. And in the days before Internet shopping and air freight, just obtaining the plants, seeds and tools you needed when you lived hundreds of kilometres from the nearest city could be tricky.
That didn't stop intrepid garden lovers, however. Whether they dug vegetable gardens to feed their families, hired local labourers to build stone walls and pretty gazebos, or contracted one of the world's foremost landscape architects to design a formal garden for their waterfront mansion, they were determined to put their own mark on the land. Luckily for us, some of their handiwork has been preserved and restored for us to enjoy today.
Here are nine inspiring historic places where you can learn about Canada's long horticultural history.
Places
British Columbia
Ada Annie Rae-Arthur, her husband and their three young children settled on this remote Vancouver Island site in 1915. After carving a five-acre garden out of the rainforest, Annie spent seven decades growing mail-order plants and fruit trees (while also surviving longer than four husbands and bearing eight more children). As she aged, the garden became overgrown. After she passed away in 1985, volunteers spent some 30 years restoring the garden and building the nearby Temperate Rainforest Field Study Centre. Today, you can stroll two kilometres of mossy pathways, hike the Walk of the Ancients forest trail, and learn about the Hesquiaht First Nation, whose members inhabited this site long before European contact. Day visits and overnight stays are both possible, and you'll arrive via a spectacular 50-kilometre floatplane trip from the community of Tofino.
Victoria, British Columbia
The story of the creators of this gem-like small garden is as fascinating as the garden itself. Peggy Pemberton-Carter and exiled Prince Nicholas Abkhazi of what is now Georgia met in Paris in the 1920s. Separated by conflict and geography—including stints in Second World War prison camps on opposite sides of the globe—they found each other again and married in 1946. For the next four decades, the couple developed a rich garden in their 0.4-hectare (one acre) backyard. In 2000, after their deaths, The Land Conservatory of British Columbia saved the garden from developers. Today, you can enjoy sweeping views of the Olympic Mountains and the Strait of Juan de Fuca as you meander among Japanese maples, heritage rhododendrons and moss-covered rocky outcrops. The Abkhazi home is now a gift shop and tea room.
Lethbridge, Alberta
Created as a tribute to Japanese-Canadians during Canada's Centennial in 1967, this peaceful oasis blends Japanese traditions with Prairie landscapes. Japanese designer Tadashi Kubo closely studied southern Alberta's scenery and culture before creating the garden's master plan. Structures such as gates, bridges and the teahouse were built in Kyoto, shipped to Lethbridge and carefully reassembled. A city park surrounding the garden provides wide-open Prairie vistas, which are gradually revealed to you as you stroll along the garden's paths. You can also immerse yourself in Japanese culture: snap a selfie while dressed in a traditional Japanese yukata, sip matcha during a tea ceremony or watch dancers spinning to the pounding beat of taiko drums. On tours, expert gardeners explain how the garden uses Canadian plants to reflect Japanese aesthetics.
Regina, Saskatchewan
Built in 1891 as the official residence of Saskatchewan's lieutenant governor, Government House is now home to a museum that evokes the era of Amédée Forget, who held the office from 1898 to 1910. Today, the property's Edwardian gardens bloom with lilies, roses and some 5,700 tulips. So what, exactly, is an Edwardian garden? Unlike the formal landscapes popular in Victorian times, the Edwardian gardens of the early 1900s featured informal flowerbeds and whimsical garden structures, such as trellises and pergolas. When you visit Government House, bring along a picnic to enjoy beneath the trees. You can also take an ecological tour or sign your children up for the junior conservator program. The Sylvia Fedoruk Conservatory, where early landscapers nurtured fragile English plants, provides a fragrant respite from Saskatchewan's winters.
Toronto, Ontario
In 1944, businessman Rupert Edwards bought an overgrown property on Toronto's northern edge and transformed it into a verdant garden, known for its rockeries and private golf course. A decade later, it became a public park called Edwards Gardens, where the Garden Club of Toronto dreamed of creating a centre to inspire local gardeners. That dream became the 1.6-hecatre (four acre) Toronto Botanical Garden (TBG). By visiting the themed gardens and checking out the TBG's lectures, workshops, tours, day camps and events, you can get a wealth of ideas and practical tips for your own garden. Many activities take place in the George and Kathy Dembroski Centre for Horticulture, an eco-friendly building with a striking glass pavilion and green roof. You can also stop by the garden shop and seasonal café.
Brockville, Ontario
Senator George Taylor Fulford made his money selling patent medicine with the memorable slogan "Pink Pills for Pale People." He made so much money, in fact, that he could hire the Olmsted Brothers—the legendary landscape architectural firm that designed New York's Central Park and Montreal's Mount Royal Park—to lay out the plan for his mansion's garden in 1899. Researchers delved into the Olmsted archives in Massachusetts to find historical letters, photos and plans that helped them restore the long-neglected landscape. Overlooking the St. Lawrence River, the restored Italianate garden features geometric flowerbeds and elegant stone statues, along with a white marble fountain adorned with mythical beasts. Visit today and you can get a sense of how the rich and famous enjoyed their fortunes at the turn of the last century.
Price, Québec
Elsie Reford spent 32 years creating these magnificent gardens, hundreds of kilometres from the nearest nursery. Starting in 1926, she hired and trained local fishing guides and farmers to help her dig flower beds, build walls, move rocks and create the compost needed to nurture exotic species, such as azaleas and Himalayan blue poppies. One of the most northerly public gardens in North America, it opened to visitors in 1962. Today, some 3,000 species flourish in 15 separate gardens, including a bird garden, a primula glade and a gentian walk. You can also visit the garden tool museum, have a meal in the restaurant, take in a concert, admire modern sculptures, and enjoy gardening and culinary festivals.
The Annapolis Royal Historic Gardens take you on an adventure through time, in one of Canada's most historic small towns. With 17 acres of gardens, you can stroll through Nova Scotia's history by exploring gardens based thematically on different time periods: a pre-European settlement garden, a 17th century Acadian section, 18th century colonial Governor's Garden, as well as Victorian and contemporary gardens.
Wallace, Nova Scotia
This museum is located in a late 1830s home on Nova Scotia's Northumberland Shore. Set amid 91 hectares (225 acres) and offering seven kilometres of forest trails, the property features gardens, orchards and extensive woodlands. When the house became a museum in 1992, mint, wild thyme, mallow and golden glow predominated in the largely overgrown garden. Museum horticulturalists and volunteers researched mid-Victorian gardens (1840 to 1860) to create a landscape reflective of the house's early years. Now, you can stroll among many varieties of flowers from spring through fall, including daffodils, bearded irises, sedum, Solomon's seal, peonies and asters. Bring a picnic to the apple orchard, take a deep breath in the sweetly scented herb garden, and enjoy tea and desserts on the veranda.
Road Map
British Columbia to Wallace, Nova Scotia