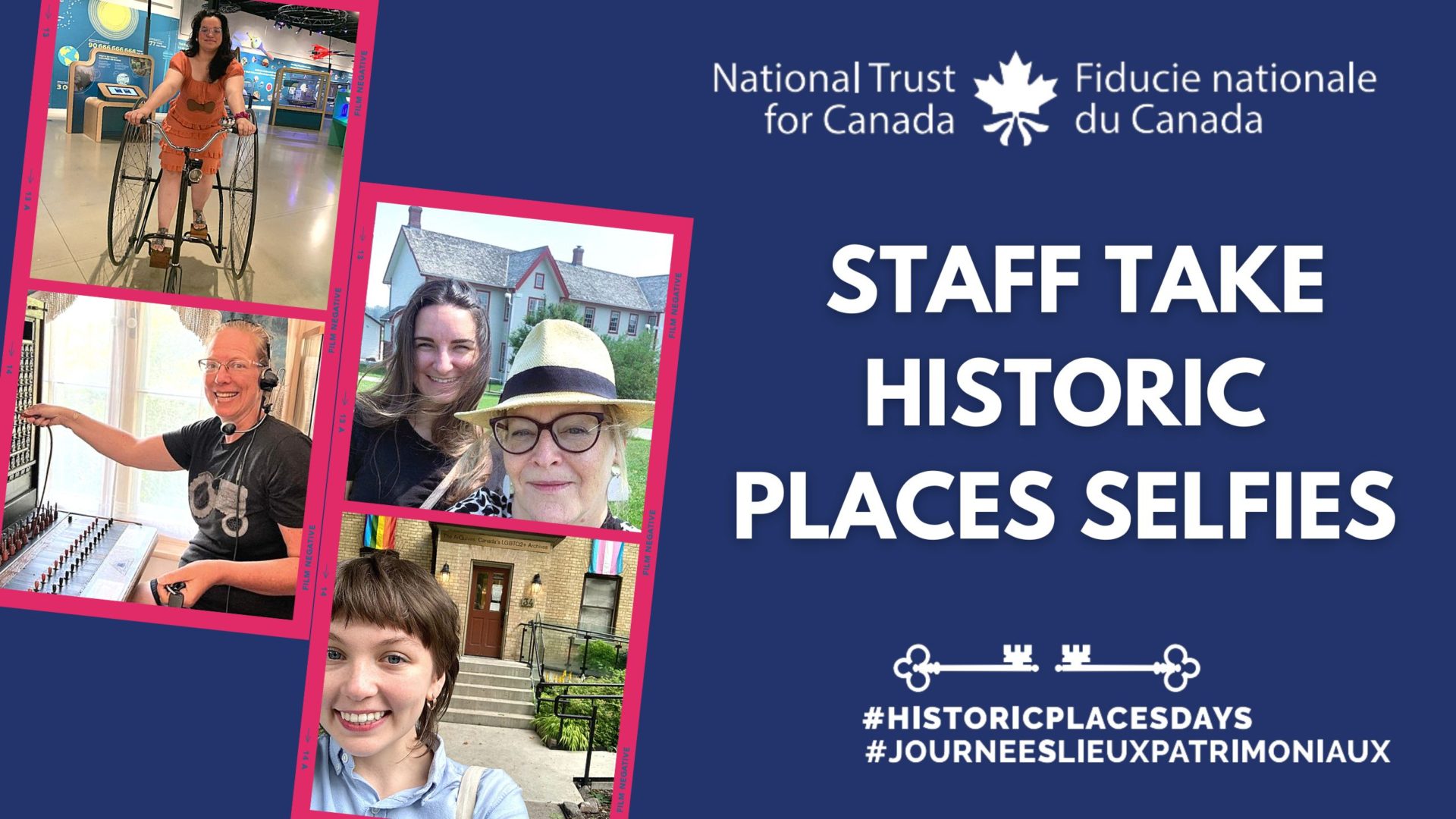 Selfies from the National Trust for Canada 2023
It's that time of year again! The annual Historic Places Days event means that folks are out taking photos, and selfies at historic places coast-to-coast-to-coast. The staff at the National Trust for Canada are no exception, take a look at the historic places they visited both digitally and in-person! 
Ana pulls a wheelie, circa 1870s:
Location: Canada Museum of Science and Technology, Ottawa, ON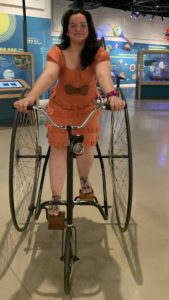 "I love when cultural institutions interact with their visitors in creative ways. This was my first visit to a museum since I graduated with a Master's degree in Museum Studies. Within five minutes of my visit at the Canada Science and Technology Museum, I saw an employee riding a tricycle around the space. Asking to take a picture of them, they surprised me by saying, "I can do you one better, you can ride it!" Most people cannot say that they have ridden a 19th century tricycle, but I can say I have! Conceptualized since 1842, the #SciTechMuseum tells the history of Canada's innovations and contributions to the disciplines of science and technology." – Ana V., Special Projects Officer – Historic Places Days
Sonja connects with the past, over and out:
Location: Smith Falls Heritage House Museum, Smith Falls, ON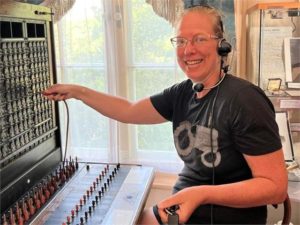 "This is one of my favourite memories of visiting a house museum – I'm pretending to be a telephone operator at the Smith Falls Heritage House Museum. I felt such glee being able go back in time using their historic switchboard. Known as a museum "without the velvet ropes", the museum staff actively encourage visitors to touch, try on, play with and enjoy a vast collection of artifacts from the many eras of Smith Falls' history. Well worth the trip, they are also known for their Smith Falls Ghost Tours and Haunted Heritage House in the fall." Sonja K., Project Manager, Marketing and Membership
Strolling through Queer Toronto with Audrey:
Location: The ArQuives, Toronto, ON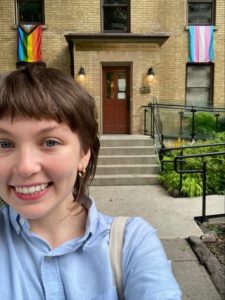 "Enjoying a sunny afternoon walking around downtown Toronto, which includes a visit to the ArQuives. The building, a beautiful mid-Victorian town house (known as the Jared Sessions House) is somewhat tucked away on Isabella Street, despite housing the largest independent LGBTQ2+ Archive in the world! Travelling up Church Street, the ArQuives is only a few blocks from many other significant sites including The 519 and the Glad Day Bookshop." – Audrey G., Project Officer
Natalie, Queen of the Andals and the First Men:
Location: Kings Landing, Prince William, NB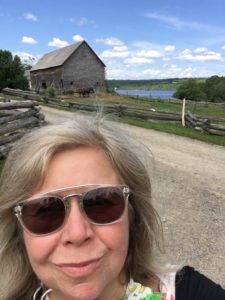 "Not just a "Game of Thrones" kingdom, Kings Landing is also an iconic New Brunswick heritage site, just down river from where I grew up, and a longstanding highlight of visits home. What an amazing backstory: it was basically created as a salvage mission, gathering up significant endangered heritage buildings that would otherwise have been underwater after the Saint John River (the Wolastoq) was dammed in the 1960s.  It shares that backstory with its Ontario cousin, Upper Canada Village, which was created a few years earlier to preserve places from the ten villages lost to the St. Lawrence Seaway project.  Visiting Kings Landing in my youth influenced my decision to pursue a career in heritage conservation!" – Natalie B., Executive Director
Zarina falls in love and runs away with…Vancouver?
Location: Vancouver Art Gallery, Vancouver, BC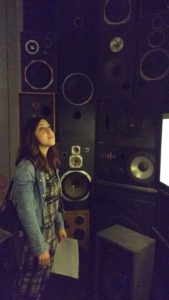 "I first visited the city of Vancouver and the Vancouver Art Gallery in 2016. It solidified both my desire to live in the city and be part of its arts culture. I fell in love with the building and the striking juxtaposition between its historic exterior and the powerful contemporary installations inside. Two years later I moved there to be part of the 2018-2021 Vancouver Biennale and worked together with dozens of cultural partners and communities to develop significant public art projects and cultural programs. It was a life changing experience!" – Zarina L., Communications and Public Affairs Manager
Kirstin catches up with an old friend:
Location: Fort Calgary, Calgary, AB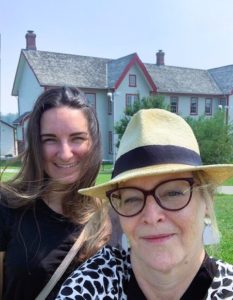 "Caught up with Vanessa Arseneau yesterday in YYC, and we visited Fort Calgary for Historic Places Days. A Sunday morning taking in some 'heritage in action'. Wonderful wander in the East Village of Calgary, first brunch treats at the beautifully adapted historic Simmons building before taking in the thoughtful and very timely exhibit at Fort Calgary, Reflections on Exclusion: An Exhibition on the Chinese Immigration Act. Great to connect with the National Trust for Canada's colleague and consultant Vanessa Arseneau!" Kirstin E., Director, Business Development and Partnerships
 Go Back to the Future with Emily:
Location: Spencerville Mill & Museum, Spencerville, ON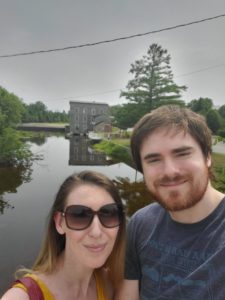 "We love to visit the Spencerville Mill & Museum – such a beautiful location along the river. Inside the museum, the historic equipment is amazing to see up close. There is also a lovely park nearby and an antique shop next door (not to be missed!)." – Emily B., Development Manager
Chapels and Paintings and Angus. Oh my!:
Location: Papineau Chapel, Montebello, QC
"We have been busy with the final preparations of the Papineau Chapel this week! On Friday July 21st, we will reopen the chapel to the public for the first time since 2017 following an extensive restoration project. Here I am hanging a print of a painting that hangs above the alter while the original is restored. We are excited for the visitors and passerby's to once again pop in to visit the Papineau Chapel. Built between 1853 and 1855 by Louis Joseph Papineau as a family chapel and crypt, the Papineau Chapel has been in the care of the National Trust since 1974. If you get a chance, stop by and say hi to our new tour guide, Rosalie on Fridays and Saturdays! She'll be happy to share the history of the Chapel and the beautiful grounds of the Papineau seigneury. You might want to head into the village for some locally made chocolate too – just a thought…" – Angus A., Project Manager