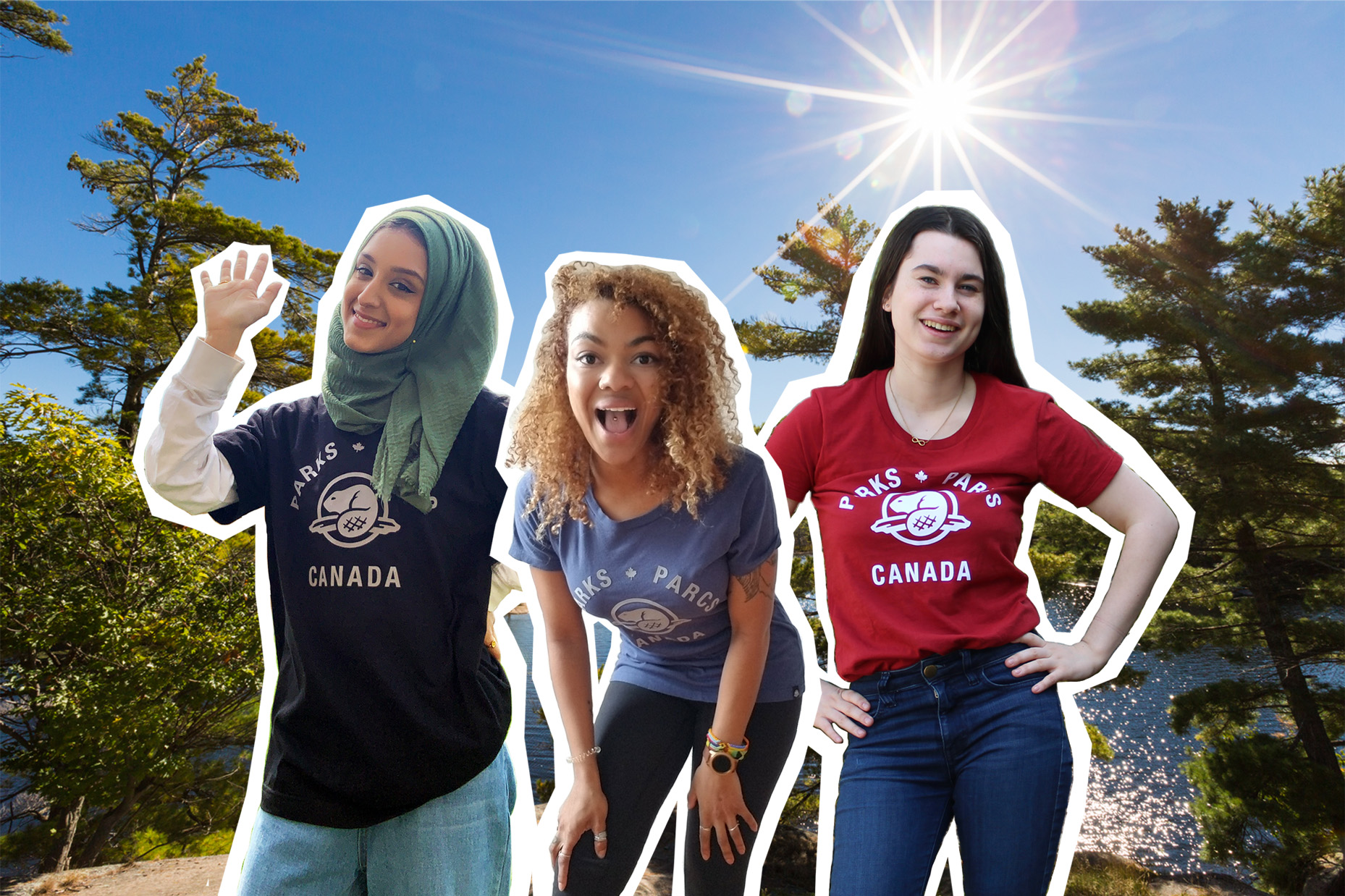 Virtual road trip – Canada from coast to coast to coast
Dreaming of taking a "road trip" across Canada, from the red sands of Prince Edward Island to the lush green parks of British Columbia? This is the perfect opportunity to travel virtually! The Parks Canada Youth Ambassadors are proud to present their virtual visit list, "Canada from coast to coast to coast". These national historic sites are among our favourites, let us introduce them to you!
Before starting your travel, make sure you are familiar with local public health guidelines and follow them. Although this list presents virtual experiences, some of the recommendations can take place in person. Only travel if the health context allows it, check the websites of specific locations before you visit and don't forget to be #ParksSmart.
Did you know… 
You can get a good overview of what awaits you in many of these Parks Canada administered National Historic Sites thanks to Google Street View! This is a great way to travel from the comfort of your own home.
Places
Gjoa Haven, Nunavut
Over one hundred and seventy years ago, British explorer Sir John Franklin and his crew went missing while searching for a Northwest Passage. Over time, Inuit traditional knowledge (Inuit Qaujimajatuqangit) combined with new knowledge and modern technology, led to the discovery of the wreck sites of HMS Erebus and HMS Terror. Today, there is still much to learn from the story of these shipwrecks.
What to do?
Parks Canada and Inuit are working in partnership to explore the wrecks of HMS Erebus and HMS Terror ― the fabled ships of the 1845 Franklin Expedition that set sail from England in search of a Northwest Passage across what is now Canada's Arctic. Take an unprecedented look inside the wreck of HMS Terror – lost at sea over 170 years ago!
St. John's, Newfoundland and Labrador
On Canada's easternmost point of land, historic Cape Spear Lighthouse offers a glimpse into the lives of 19th century lighthouse keepers and their families. Stark white,  the oldest surviving lighthouse in Newfoundland and Labrador pierces a sky swirling with seabirds atop a craggy headland. During the Second World War, this extreme point of land was also the site of a very important Coastal Defence Battery, protecting the entrance to St. John's Harbour.  The Fort overlooks a vast expanse of indigo ocean where glittering processions of icebergs glide by and Humpback whales breach.
What to do?
Every year thousands of whales migrate to the waters of Newfoundland and Labrador to feed. The annual spring arrival of these magnificent animals, along with capelin and seabirds, are important natural and cultural events for the people of Newfoundland and Labrador. Come for the Humpback, Minke and Fin whales, but stay for the fascinating history! Explore the historic Cape Spear Lighthouse and learn about the life of a 19th century lighthouse keeping family. Take a stroll through the remains of a Second World War Coastal Battery and learn about the life of a gunner at Cape Spear.
Grand Pré, Nova Scotia
Located in the heart of a UNESCO World Heritage Site, this is Grand-Pré National Historic Site—once the epicentre of Acadian culture and now the most significant memorial to their tragic upheaval.
What to do?
Discover powerful Acadian stories within a picturesque landscape. Success and struggles are told throughout a captivating multimedia presentation and engaging displays, a splendid Victorian garden, and a Memorial Church. The Evangeline statue at Grand-Pré National Historic Site turns 101 this summer. Become a contemporary artist with your very own POP ART creation reinventing the iconic Evangeline.
Green Gables, Prince Edward Island
A straw hat, red-haired braids and a pinafore define Canada's most loved fictional character, Anne of Green Gables. Meet the head-strong orphan and re-live her youthful escapades and mishaps within the memory-filled rooms of her home – Green Gables.
What to do?
Explore the new visitor center and it's exhibit hall while reliving Anne's escapades and misadventures with guided tours, interpretive trails and a geocaching course.
Aulac, New Brunswick
Explore this place that stands at the crossroads of Canadian natural and cultural history. Already well established in the 18th century, the site became the scene of three acts of war between France and Great Britain, the deportation of the Acadians and the tearing apart of British North America.
What to do?
Did you know that 2020 marks Fort Beauséjour – Fort Cumberland's 100th anniversary as a designated National Historic Site of Canada? While 2020 did not go as planned for everyone, we decided to celebrate virtually and invite people to dig into their souvenirs and memorabilia, and help us build a memorable exhibit in celebration of the fort's milestone! To appreciate the virtual exhibit: http://ow.ly/xNMN50FrIf7
Trois-Rivières, Québec
In Mauricie, halfway between Montréal and Québec City, discover the remains of Canada's first industrial village. Enter the Grande Maison to admire the iron and cast iron pieces made at the Forges, then stop at the blast furnace to learn more about this community of artisans who, for 150 years, provided both military and domestic items. Plan your picnic and take full advantage of the vast site surrounding the rich history of the Forges near the Saint-Maurice river.
What to do?
In addition to the exhibits and the indoor multimedia show, take some time to discover new features:
The new immersive experience "1600°C trial by fire" will immerse you in the unknown world of the blast furnace workers. Follow the instructions of the master founder and try to perform all the steps of the cast iron manufacturing process. Will you be a good apprentice? Come live the experience with the new immersive installation designed to put you to the test and see if you're up to it! Shovel, load, skim . . . and heat it up!
"Diabolus ex machina" is an audio tour by Fred Pellerin. This walking tour is in the form of a false documentary which will immerse you in the historical and legendary universe of Forges-du-Saint-Maurice, seen through the playful glasses of the storyteller. The storytelling course is available in 14 audio capsules accessible directly on your smart device or by using one of the portable devices available on site. (The audio path is offered only in French but a written English translation is available.)
Winnipeg, Manitoba
Delve 6,000 years into the past at Winnipeg's "Meeting Place" while soaking up the bustling ambience. Learn how two great rivers at the heart of the continent connected the prairies to the world and drew in trappers and traders from lands far away. 
What to do?
Stroll over the Esplanade Riel pedestrian bridge that is a symbol of the connection between downtown Winnipeg and the French Quarter of St. Boniface or view the junction of these two famous prairie rivers, first named "La Fourche" by La Vérendrye in 1737. The Red was named a Canadian Heritage River in 2007 and is one of only a few rivers in North America to flow north.
Longview, Alberta
Ride into history on a wagon pulled by Percheron horses to discover the life of a ranching cowboy from the late 1800s at the Bar U Ranch National Historic Site. Try your hand at cowboy skills or sit around the campfire and listen to old-time tales. Back-dropped by the Rocky mountains – it's a true Alberta experience!
What to do?
Hear about the characters that made this ranch famous: the ranchers, poets, politicians, royalty and even outlaws including the infamous Sundance Kid. Meet the people of the west: cowboys, saddle-makers, blacksmiths and camp cooks who will passionately tell you their stories.
Rising from the mist of the Fraser River, the palisades of Fort Langley stand tall. Inside the walls, rough-hewn timber buildings recreate the rugged 1800s. See where Hudson's Bay Company fur traders mingled with California gold prospectors and hear First Nations interpreters tell century-old tales. Feel the blast of the musket fire, pan for gold dust dreams and dress up to play a historic trading boss.
What to do?
Experience Fort Langley by night with oTENTik overnight adventures! oTENTik is a cross between an A-frame cabin and a prospector tent mounted on a raised wooden floor. This water resistant accommodation is built to withstand diverse weather conditions and no set-up is required by campers. Each of the five units inside Fort Langley's historic walls represents the heritage of Fort Langley's diverse workers. While Hudson's Bay Company workers would be required to set up camp when travelling and bring their own supplies, we've done the work for you, no fuss no muss!
Road Map
Gjoa Haven, Nunavut to