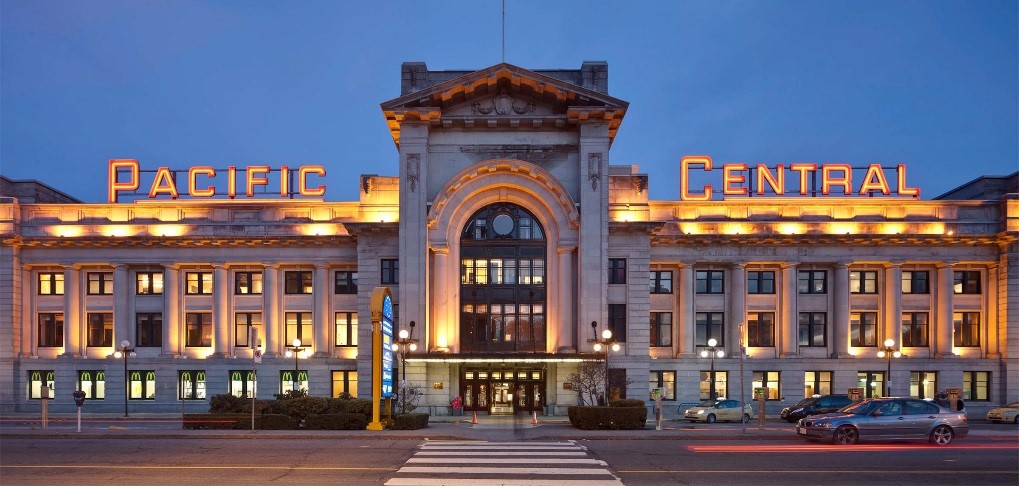 Via Rail Vancouver train station and nearby places
VIA Rail has a beautiful fully restored historic train station in central Vancouver.  Starting from the station,  there are many historic places to explore if you are visiting Vancouver for the first time or if are a Vancouverite wanting to learn more about your city.  These historic places tell the unique stories of this city which has grown so rapidly since it was founded in 1886.
Places
Vancouver, British Columbia
The Pacific Central Station was originally commissioned and designed by the Canadian North...
Vancouver, British Columbia
Restored 1893 Victorian house museum built for Vancouver's first bookbinder Gustav Roedd
Vancouver, British Columbia
An iconic landmark in Vancouver's Mount Pleasant neighbourhood.
Vancouver, British Columbia
It is not common knowledge that prior to the Incarceration, Displacement and Dispossession of 1942, the Powell Street corridor was once the home to 8000 Japanese Canadians and over 400 Japanese owned businesses. Today, there is an abundance of remaining history and architecture that tells the story of a community that once thrived in this unique area of Vancouver! The Historic Powell Street Area is loaded with history and we have walking tours to prove it!
Vancouver, British Columbia
Learn about the history of crime, policing and forensics in the City of Vancouver.
Vancouver, British Columbia
Historic Joy Kogawa House is the 1912 home where author Joy Kogawa lived as a child.
Vancouver, British Columbia
Connecting cultures & communities through festivals, art education & wellness programs
Road Map
Vancouver, British Columbia to Vancouver, British Columbia