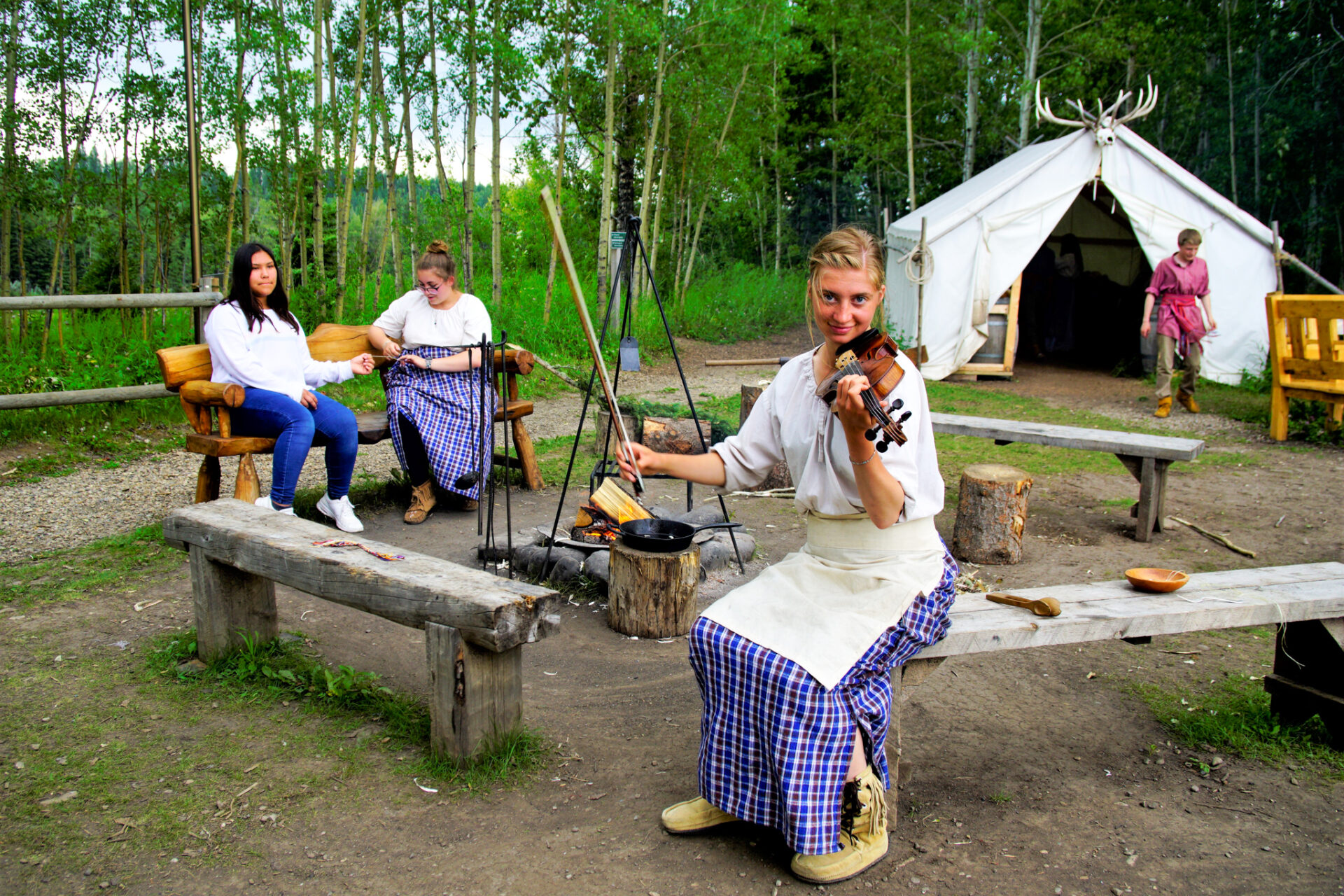 4 Kid-Approved Historic Places in Southern Alberta
The key to getting kids interested in history is to take them to places with engaging storytellers, interactive exhibits, and memorable experiences. Whether they watch a blacksmith demonstration, take a horse-drawn wagon ride, or talk to interpreters in period dress, they are bound to want to know more about life long ago when there are things to see and do. Here are four kid-approved historic places in Southern Alberta:
1. Ukrainian Cultural Heritage Village
"I brought this pane of glass from Ukraine," the costumed interpreter at Ukrainian Cultural Heritage Village says while opening a piece of cloth. My kids listen, fascinated, as they stand inside the woman's sod house (known as a burdei) and she tells us about the journey to east central Alberta. It doesn't take long for the girls to start asking questions. "How long did it take to build your house? Do you have children? What do you grow in your garden?" Having someone in-character to talk to brings history to life and piques their curiosity.
At the General Store, the owner's daughter asks us what we'd like to buy. "Cookies!" a little boy pipes up. Sure enough, they have cookies, and they're a bargain by today's prices. We learn the cost of common food items in the early 1900s, and how food was packaged and stored. Next, we take a horse-drawn wagon ride; visit the pigs, train station, and church; and watch a choir practice.
With over 40 lovingly restored buildings, amazing staff, farm animals, and an exhibit gallery in the visitor centre, you can easily spend a few hours here. Plan to stay for lunch; the cabbage rolls, perogies, and sausages from the concession are delicious!
2. Rocky Mountain House National Historic Site
"Can you guess what this one is?" the trapper at the Métis Camp asks while holding up a pelt with a bushy tail. My girls correctly guess that it's a fox, but aren't so sure about the next one. By the end of the interactive presentation, we learn what different pelts look like and what they were used for. It's relevant as this site was an important fur trading hub. Over the years, four forts were active here. In present-day, you can explore the Play Fort which is a ¼-size replica of one of the forts that used to be here.
At the York Boat, we hear about the challenges of portaging heavy boats full of trade goods. Weighing 2700-5400 kilograms empty, and carrying up to 6 tons of cargo, it was no easy feat to move them on land. Land had to be cleared and rollers had to be made of trees. Nevertheless, York Boats were used from the late 1700s until the early 1900s because they were so rugged and durable. The Boathouse is also home to the blacksmith shop where demonstrations are held.
Next, we explore the Visitor Centre exhibits, and walk along the Athabasca River where wild roses are in bloom. Bison graze in the paddock, and smoke wafts up from a campfire where staff are showing visitors how to start a fire with a flint and steel. My girls found it a fun challenge, so we bought flint and steel fire making kits at the gift shop!
If you plan ahead, you can sign up for "bookable experiences" like blacksmithing, dream catcher making, or drumming for a fee. Another unique experience is Heritage Camping; staying in a trappers tent, tipi, or cabin. We tried it and highly recommend it!
Don't forget to ask for a free activity booklet: Parks Canada Xplorers Guide (6-12 years old) or Parka Activity Booklet (under 6 years old).
3. Fort Whoop-Up
Fort Whoop-Up shares the story of the days when "fire water" (whisky) was traded for buffalo robes. During the late 1800s, Fort Whoop-Up was the largest of the "whisky forts" established by American traders throughout southern Alberta. While the original fort was abandoned in 1892 and washed away in a flood in 1915, the replica fort, Voices from the Past audio recordings, and galleries do a great job of taking you back in time.
Discover Blackfoot (Niitsitapi) history in the Blackfoot gallery, watch a short film on Fort Whoop-Up's history, then take a self-guided tour of the fort. It is fully-furnished and laid out like a working fort, so you can see – and hear – how people lived. Audio recordings bring each room to life. Hands-on activities include rope making and writing with a quill pen.
My kids' favorite part of our visit was the guided wagon ride in the Lethbridge River Valley (cost: $5 with admission, duration: 30 minutes). As the horses clip-clopped down the road, beneath the High Level Bridge, the interpreter shared stories of the whisky trading days and told us about the large draft horses pulling the wagon.
Discover more local history on 1) a three-hour interpretive experience ($40-60/person, registration required) at Fort Whoop-Up, or at 2) the Galt Museum & Archives at the top of the hill. While you're in the area, visit Indian Battle Park playground, and walk up to the lookout to watch trains cross the High Level Bridge (built in 1909), the longest and tallest steel trestle bridge in the world.
4. Bar-U Ranch National Historic Site
Bar U Ranch National Historic Site is Canada's only national historic site dedicated to ranching history. At its peak, it was one of the largest ranching operations in the country with 30,000 cattle and 1,000 Percheron horses! Today, you can find the largest collection of historical ranch buildings in Canada here and learn about ranch life in the early 1900s.
The experience begins at the Visitor Information Centre where we meet the majestic Percheron horses who will pull our wagon down to the Round-up Camp (wagon rides are free with admission). We hear how George Lane, one of the Big Four founders of the Calgary Stampede, brought Percherons to Bar U Ranch and became the largest Percheron breeder in the world. As we make our way into the valley, our guide shares some ranch history and things we can do while we're here.
At the camp, we enjoy cowboy coffee made over the fire, and listen to stories of legendary and notorious characters that worked and lived here. Skilled horseman and Black cowboy John Ware, drove thousands of cattle here in 1882. Nearby Mount Ware and Ware Creek are just two places named after him. In 1891, Harry Longabaugh, who later became the outlaw known as "The Sundance Kid", broke horses at Bar U Ranch.
Fun things for kids to do at Bar U include roping, visiting the farm animals, walking along Pekisko Creek to the Red Chairs, and filling out an activity book to get a prize. On Saturdays and Sundays, there are activities at the Stoney Nakoda Camp too. Last but not least, don't miss fresh baking at the Cookhouse! If there are no samples left, there's plenty of cowboy cooking at the Bar U Ranch Café in the Visitor Centre.
Places
Tofield, Alberta
Costumed interpreters do an amazing job of making you feel like you've gone back in time 100 years. We loved visiting the sod house, General Store, farm animals, and getting a private tour (free with admission). Save time for lunch at the concession; the perogies, sausage, and cabbage rolls are amazing!
Rocky Mountain House, Alberta
The fur trade days come to life at Rocky Mountain House National Historic Site! Visit the Metis camp, play at the Play Fort, watch a blacksmith demonstration, learn to make a fire with flint and steel, and look for bison in the bison paddock.
Lethbridge, Alberta
Kids will love rope making, learning to write with a quill, getting an ice cream at the gift shop, and going for an interpretive wagon ride through the river valley.
Longview, Alberta
The experience begins with a wagon ride into the valley and cowboy coffee and stories around the fire. If you're visiting with kids, they will enjoy filling out their Parks Xplorer (6-12 yrs old) or Parka (under 6 yrs old) activity books; it's like a big scavenger hunt! Try fresh baking at the Cookhouse, or roping a replica steer, and visit the farm animals. If you get hungry, there's a café onsite with great burgers and chili!
Road Map
Tofield, Alberta to Longview, Alberta