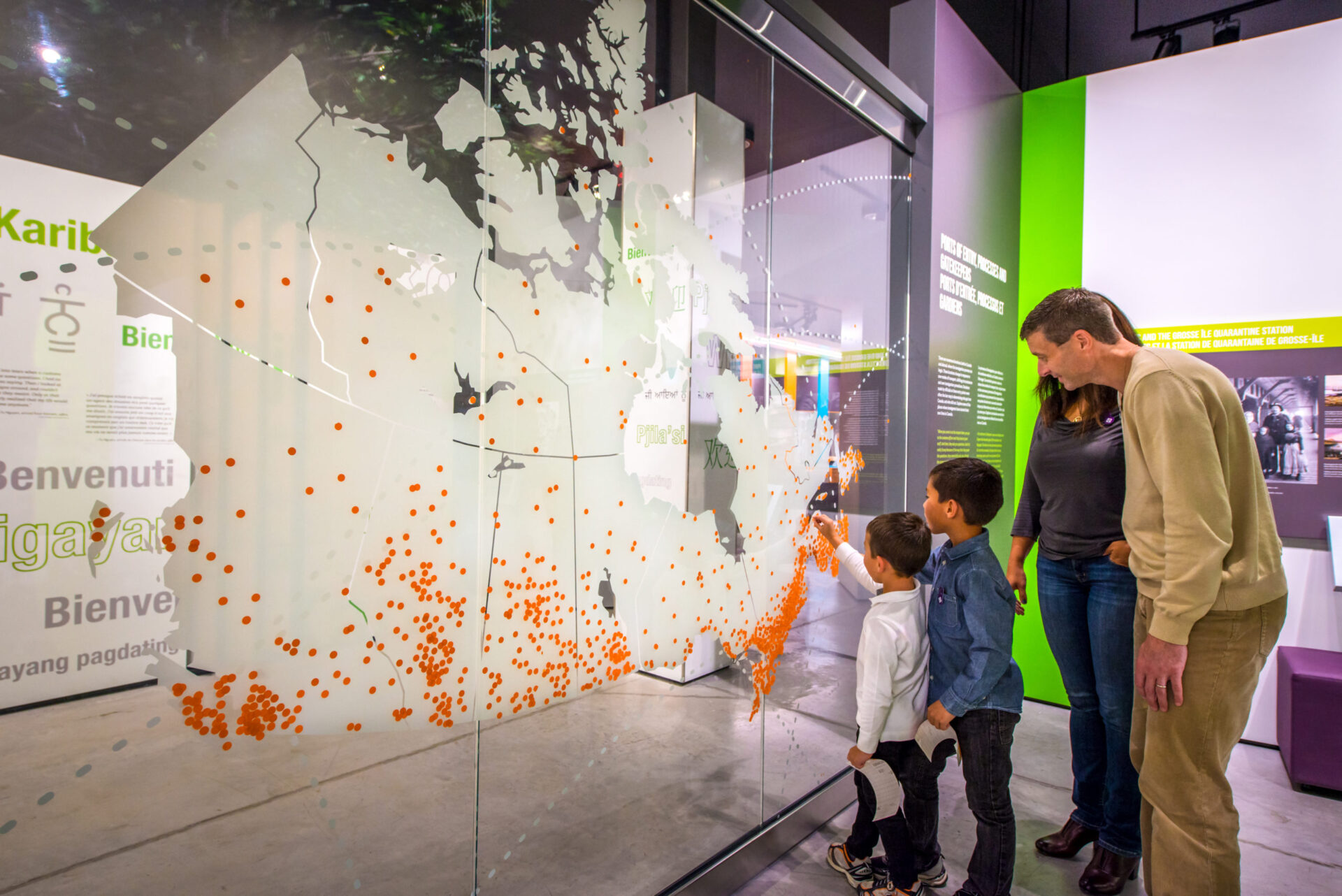 10 places that will help you understand Canada's story
As the second-largest country in the world, Canada can seem like a daunting place to understand. Fortunately, historic sites across the country offer a window into myriad aspects of Canada's diversity. When you visit them, you might find yourself learning about the past by baling hay, putting on a vintage dress or sleeping in a tipi!
Indigenous peoples have inhabited North America for millennia. Over that time, many cultures emerged, each with unique languages, foods and traditions adapted to the landscapes in which they lived. Did you know, for example, that the first residents of Canada's prairies used just about every part of the bison they hunted? As well as eating bison meat, they made bowstrings and snowshoes from sinew, arrows and bowls from horn, soap and candles from tallow, and clothing, blankets and drums from hides.
Some 1,000 years ago, Norse adventurers set foot in what is now Newfoundland. Centuries later, waves of European explorers, missionaries and settlers—largely from France and the British Isles—arrived. You can follow in their footsteps as you stroll the cobblestone streets of Quebec City or explore a woodland fort.
As the country grew, it came to be seen as a place of new beginnings for people from around the world. Some fled slavery or persecution, while others arrived seeking farmland or gold. Sometimes, conflicting ambitions led to friction; those stories, too, are captured in Canada's historic sites, where you'll see medals awarded for bravery and gravestones of long-gone heroes.
Here are 10 of the countless places where you can immerse yourself in Canada's story.
Places
Saskatoon, Saskatchewan
Along Opimihaw Creek and the South Saskatchewan River, Wanuskewin Heritage Park gives visitors a rich glimpse into the 6,000-year history of Indigenous life in the Saskatoon region. Many Indigenous groups came to Wanuskewin to hunt bison and other animals, to gather food, and to engage in spiritual activities. Archaeological digs here have helped researchers better understand the Pre-Contact culture of the Great Plains. On a visit to the park, you can taste Indigenous dishes, explore trails, attend a talk, visit the art gallery or sleep in a tipi—and visualize these vast plains as they were long before railroads and telephone poles crisscrossed the land.
Saint Lunaire-Griquet, Newfoundland and Labrador
Over 1,000 years ago, Norse explorers from Greenland came ashore at what is now L'Anse aux Meadows. When they built structures of sod and timber at this site on Newfoundland's Great Northern Peninsula, they became the first known European settlers in the Americas. The Vinland Sagas told of Vikings in the area, but it wasn't until a bronze cloak pin was discovered at L'Anse aux Meadows in the 1960s that archeologists had proof to support those ancient tales. Today, you can explore a reconstructed camp, see original artifacts, hike scenic trails and learn about the Vikings. (And, no, they didn't wear horned helmets!)
Montréal, Québec
In 1705, Montreal governor Claude de Ramezay built this home, along with its large orchard and garden. Over the next three centuries, luminaries such as Canadian governor-general Lord Elgin and Québécois poet Émile Nelligan passed through its doors. In 1895, the house became a museum, and it is now one of the few Montreal buildings from the early days of New France that you can tour. Educational activities and multilingual exhibitions draw on the museum's collection of roughly 30,000 historical artifacts to illustrate the history of Montreal and Quebec—and show us how the rich and famous of the past lived.
Dresden, Ontario
Born into slavery in Maryland in 1789, Josiah Henson and his family escaped to Canada in 1830 via the Underground Railroad. They made their way to the Dresden area of southwestern Ontario, establishing the Dawn Settlement and a school for other refugees from slavery. Author Harriet Beecher Stowe loosely based her character Uncle Tom on Henson, inspiring the name of this historic site. The five-acre property includes an interpretive centre and theatre, the Hensons' former home, a pioneer church built in 1850, and two cemeteries. You can learn about Black life in early Canada through events, films and exhibitions.
Montréal, Québec
The Sir George-Étienne Cartier House in Old Montreal illuminates the life of a lawyer and businessman who played a key role in Confederation. In the middle of the 19th century, several small British colonies scattered across northern North America began debating the merits of uniting as one country. Cartier helped build a coalition supporting the idea in what are now the provinces of Quebec and Ontario. (Just think how hard that must have been in the days before social media and cable news shows!) At his home today, you can delve into the history of Confederation through interactive exhibitions and guided tours.
Winnipeg, Manitoba
On the shore of the Red River in Winnipeg, Riel House is a link to a turbulent time in Canada's history. Beginning in the 1860s, Louis Riel fought to preserve the Métis way of life, leading movements to resist settlement of southern Manitoba. Executed by the Canadian government for high treason in 1885, he was later celebrated by many for his role in supporting Métis rights. Riel House brings visitors into the world of Riel's mourning family, six months after his death. You can take a self-guided tour and learn about the combined Indigenous and European heritage of the Métis people.
Longview, Alberta
In the shadow of the Rocky Mountains in southern Alberta, the Northwest Cattle Company established Bar U Ranch in 1882. This National Historic Site is now home to Canada's biggest collection of vintage ranch buildings. These days, you can watch costumed interpreters making saddles, repairing reins or baking bread. You can try your hand at harvesting hay, or delight your kids with a ride in a wagon pulled by Percheron horses. Best of all, you can channel your inner cowboy as you listen to campfire stories, learn to throw a lariat or practise your branding skills on a piece of wood.
Vancouver, British Columbia
Vancouver's Japanese-Canadian community commissioned and built this Art Deco structure in 1928 to house a language school dating back to 1906, and the building quickly became a community hub. However, after Canada went to war with Japan in 1941, the federal government interned more than 22,000 Japanese-Canadians and expropriated their properties. After the Second World War, this building was one of the few returned to the Japanese-Canadian community, and it reopened as a school in 1953. It continues to offer language and cultural classes, and is home to a library of more than 40,000 Japanese books (don't miss the great collection of anime).
Halifax, Nova Scotia
Between 1928 and 1971, a million immigrants stepped off of ships at Pier 21 in Halifax and began their new lives in Canada. Today, one in five Canadians can trace their roots to this National Historic Site. The building is now Atlantic Canada's only national museum, showcasing the stories of new Canadians and the vital contributions immigrants have made to this country. You can step inside a replica ship's cabin and rail car, dress up in period clothes, and watch first-person video accounts of emigration. Every newcomer has a unique story, and it's easy to spend hours reliving these experiences.
Northwest Territories
Canada's largest National Historic Site stretches across more than 5,500 square kilometres on the shore of Great Bear Lake, just south of the Arctic Circle. Ancestors of the Sahtúgot'įnę—"the people of the Sahtú"—charged them with protecting the two peninsulas of Saoyú and Ɂehdacho. Here, elders from the nearby community of Délįne share traditional Indigenous skills and stories with younger members, helping to sustain strong ties with their ancestral lands. Dedicated to teaching, healing and spirituality, the site was set aside as a protected area in 2008. Come explore trails and portages dating back countless generations.
Road Map
Saskatoon, Saskatchewan to Northwest Territories