The Niagara Historical Society & Museum (NHSM) was founded in 1895 and has the oldest purpose-built museum in Ontario, Memorial Hall. The NHSM houses one of the finest collections of early Canadian artefacts and archives. Visitors today are treated with one of the most extensive collections, reflecting the history of one of the oldest settlements in Ontario. The NHSM consists of three independent buildings merged together: the High School building (built in 1875), Memorial Hall (built in 1906) and the Link Building (built in 1971). Our permanent exhibition explores the chronological history of Niagara-on-the-Lake from Indigenous history to the Capital years to the War of 1812 to the tourism boom of the 1970's. The gallery contains significant artefacts such as a powder horn belonging to Chief Joseph Brant, the Indian Department Coatee worn by Daniel Servos during the American Revolutionary War, uniforms from the War of 1812 and other items from Niagara's long history.
Notes from "5 Historic Places with a Soft Spot for Romance"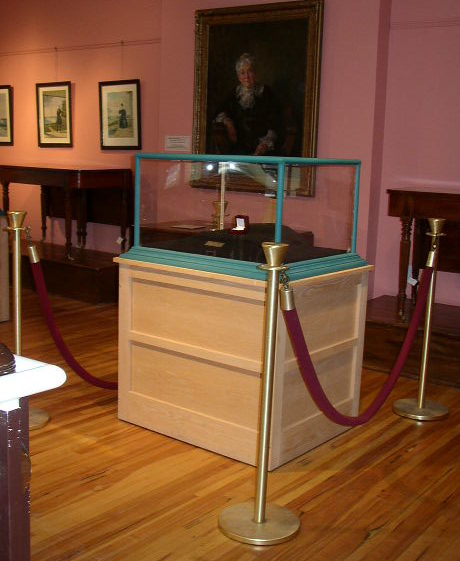 Niagara-on-the-Lake is a romantic getaway, with its carriage rides, spas and of course the iconic honeymoon destination of Niagara Falls less than a half-hour drive away. The Niagara-on-the-Lake Museum has its own share of romance and seems like a great place to make a wedding proposal.
In 2007, the staff at the Museum were thrilled to help a young man surprise his girlfriend with a romantic proposal during their stay in the historic town. The museum's staff worked with the groom and his brother to choose a quiet part of the museum, and placed an engagement ring in an exhibit case, with red velvet ropes around, and an engraved plaque the groom had made specifically for the occasion.
 "It was really great to be a part of the whole thing. The bride was quite shy and seemed stunned on the proposal day, but she said yes. They came back several months later to visit and thank us again, and they were making plans for their wedding", shared Amy Klassen, director of finance & marketing at the museum.
Photo: The "proposal" exhibit. (photo submitted by the Niagara-on-the-Lake Museum).