Kicking Off Canada Historic Places Day
Although our annual Canada Historic Places Day looks a bit different this year, hundreds of heritage enthusiasts and participating places were quick to adapt for the kick off on July 4th, showcasing their creativity through selfies and virtual events alike. As this nation-wide celebration is running until the end of August, #allsummerlong, we're looking forward to seeing how visitors will capture and share new memories of exploring sites, whether they're able to drop by in person or online.
Check out some fun selfies below as inspiration for your own and learn how you can tune in to videos that were recorded live for the #historicplacesday Launch Day!
---
Dressing Up in Dashing Attire
This selfie taker was inspired to piece together a truly arresting look for a virtual visit to the Huron Historic Gaol.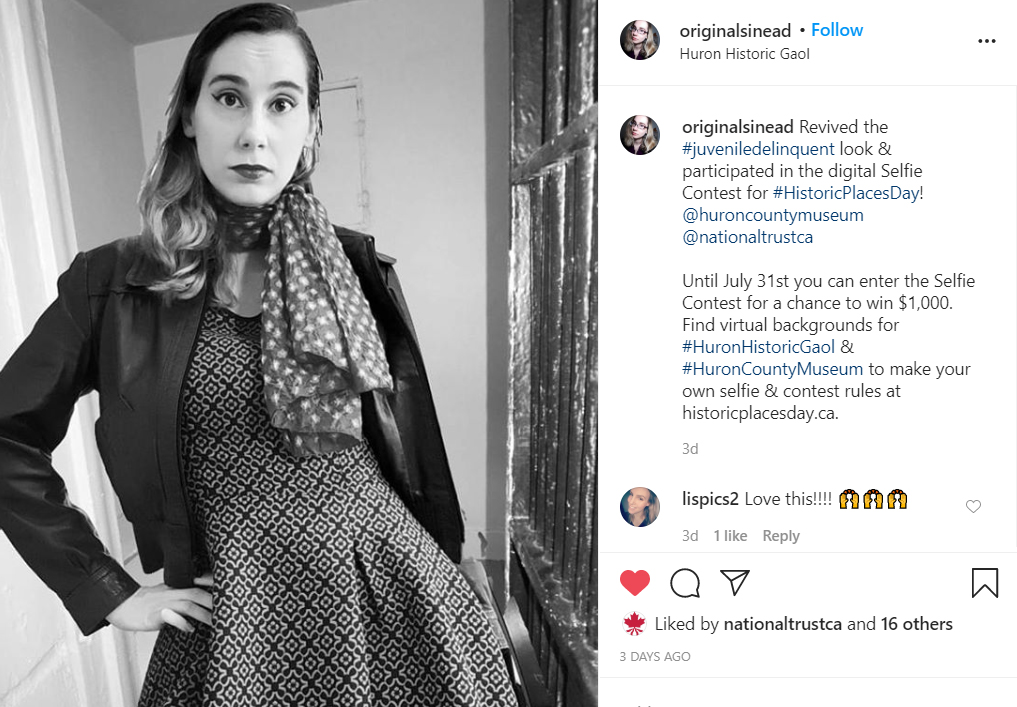 ---
Big Machinery, Even Bigger Smiles
This happy face was captured peering through a piece of local history and a remnant of the gold mining industry at Wells Museum.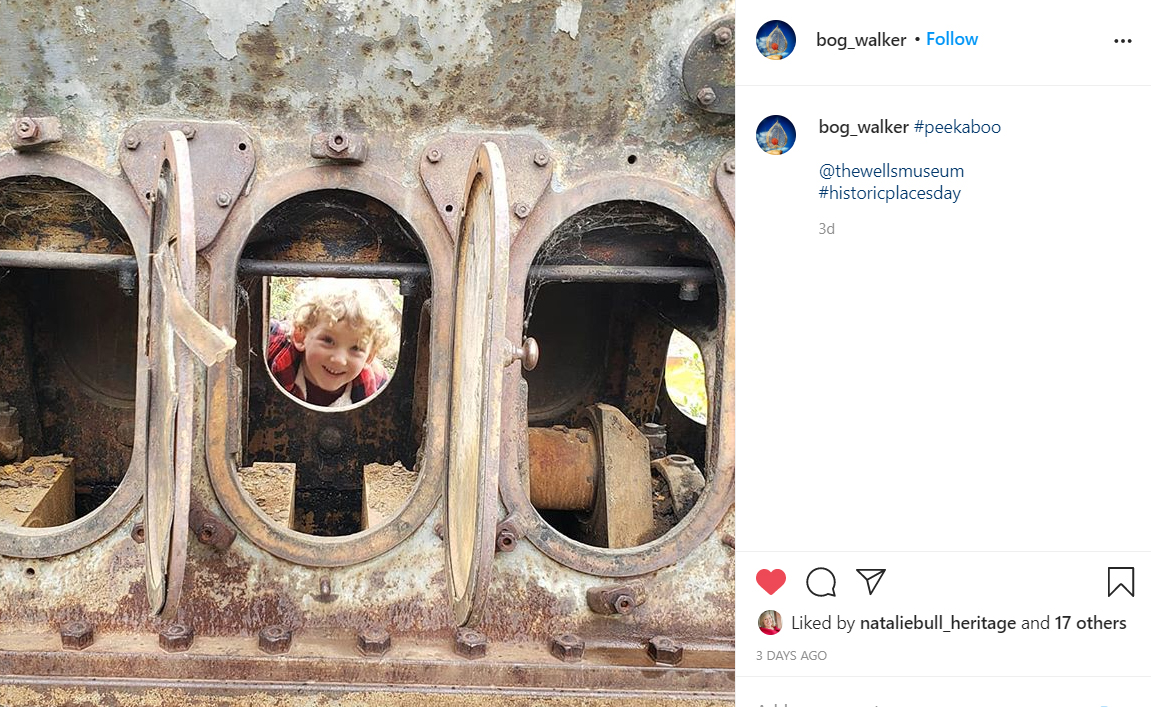 ---
Forever Blue Skies
You too can enjoy a selfie with the Bytown Museum in fine weather on any day by creating your own digital selfie on their page.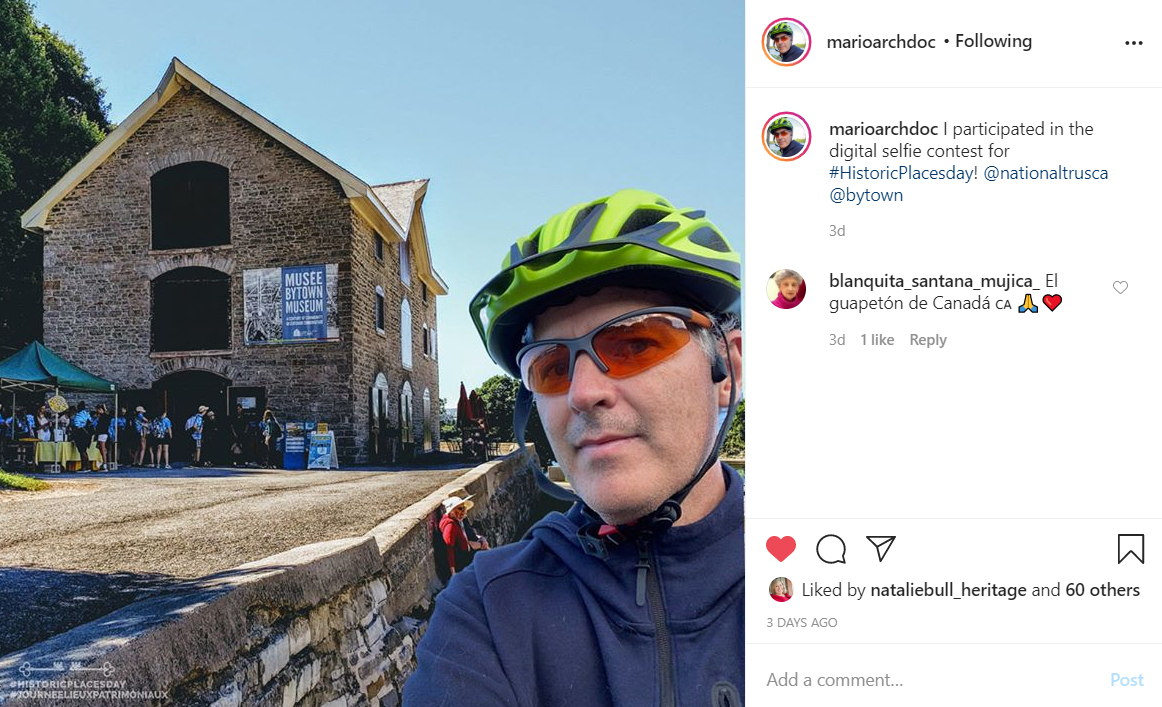 ---
A Family Affair
Get the whole household together for a sunny selfie as you discover sites with so many vibrant stories to tell, like the Vancouver Japanese Language School and Japanese Hall National Historic Site!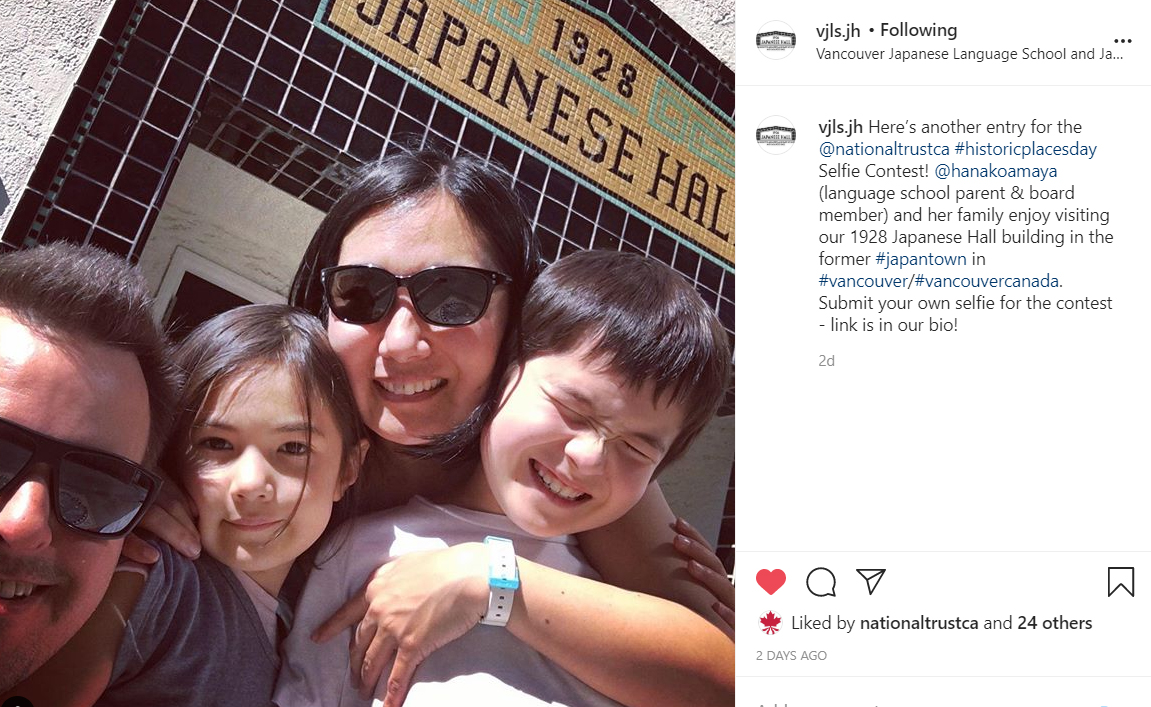 ---
Find a Prop and Strike a Pose
This selfie with the Rossland Museum and Discovery Centre's 80 year-old fire truck certainly brings the heat!
---
Did you miss any of the live events that took place on our #historicplacesday Launch Day? Or are you hoping to watch them again?
You're in luck! Click on the links below to view the recorded talks and take part in the kick off of this year's celebrations.
Don't forget that new virtual events from participating places are being added to historicplacesday.ca every day! Keep checking back to our "Events" page to find out how you can join in without leaving home.
---
Do you have a favourite Canadian historic place? Tell us about it to be entered in our July Giveaway! All you need to do is submit a photograph that you've taken of a historic place and write a short message detailing what it means to you to have the chance to win one of 50 prizes from VIA Rail, National Geographic, The Walrus, and more. The contest runs until July 31st, 2020 and we will begin drawing prizes on July 13th.
Good luck! And stay tuned for more fun ways to get involved with #historicplacesday
By Eleanore Mackie
Eleanore is a Special Project Assistant with the National Trust for Canada for Canada Historic Places day. She is a recent MA graduate of the Art History program at Queen's University and is passionate about creating educational, digital content for arts, culture, and heritage organizations that is accessible, inclusive, and inspires play.