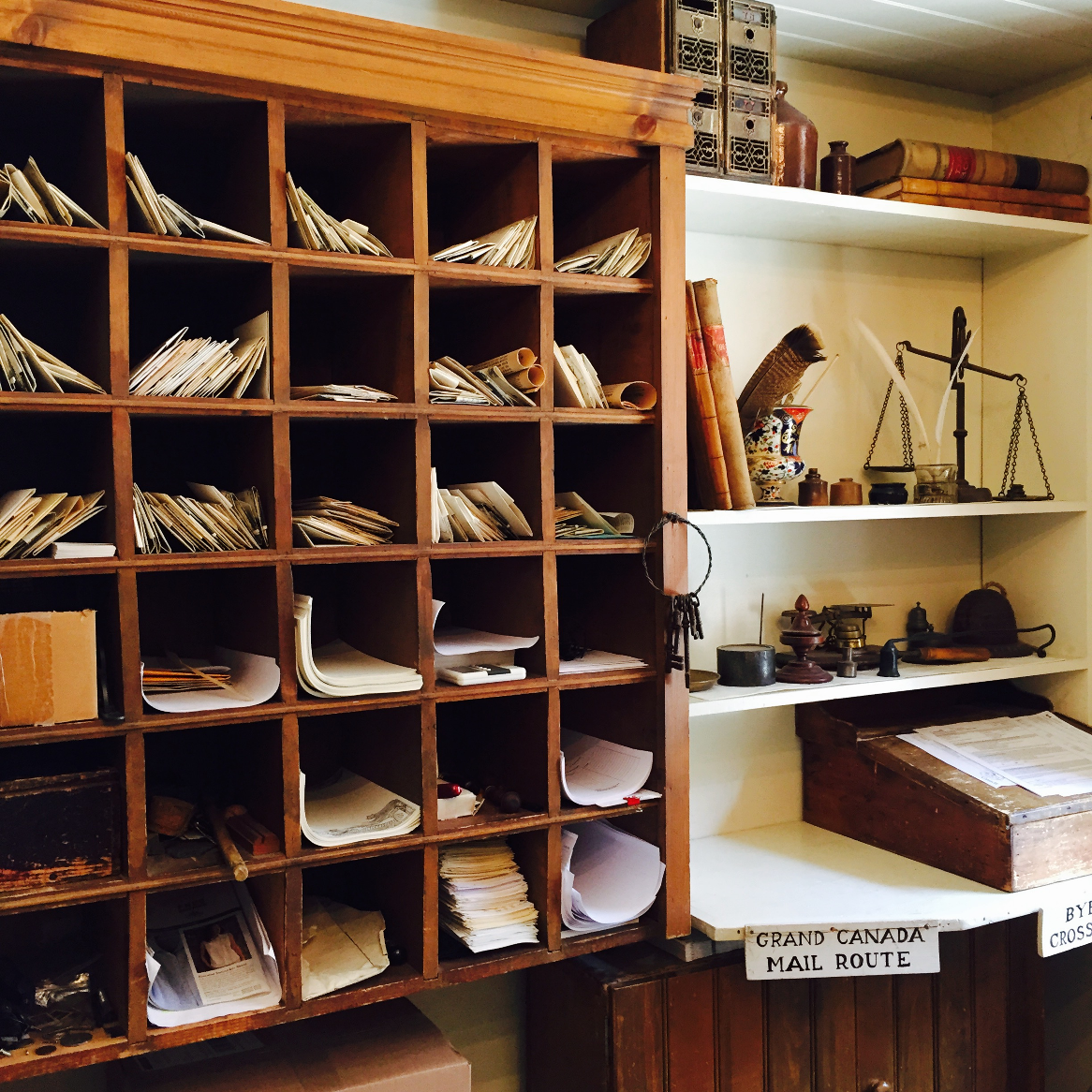 Posthaste! Exploring the Canadian Mail
Places
Carbonear, Newfoundland and Labrador
The Old Carbonear Post Office is considered to be one of the finest and best preserved example of the Second Empire construction style. The Post Office was built in 1905 to replace a larger one that burned down in 1904. Over the years the building served as a post office, customs house, welfare office, a bank, telegraph office, craft shop and artist's studio. It is now home to the Carbonear Heritage Society office and archive.
Grand Manan, New Brunswick
The Postoffice is a classic 1938 Government building that sits oceanside in North Head  on the island of Grand Manan. It hosts a number of small businesses including Postoffice Pizza and The Exchange.
Toronto's First Post Office is a historic post office, National Historic Site, and Museum. It is the oldest purpose-built post office in Canada that functioned as a department of the British Royal Mail, and the only surviving example.
Oakville, Ontario
Oakville's first post office was built in 1835 and William Chisholm served as the first postmaster. The building originally stood on the southwest corner of Colborne (Lakeshore Road) and Navy Street. Through the efforts of William Chisholm's great-granddaughter, Hazel Chisholm Hart Mathews, the building was moved to Lakeside Park in 1952 where it became Oakville's first museum.
Winnipeg, Manitoba
Ross House is one of the oldest homes in Winnipeg, and it served as the first official Post Office in Western Canada. It was built in 1854 for William and Jemima Ross, members of a prominent Métis family in the Red River Settlement.
Richmond, British Columbia
Discover the people and the moments that shaped Steveston Village. Explore the Museum, Post Office, and Visitor Center.
Road Map
Carbonear, Newfoundland and Labrador to Richmond, British Columbia