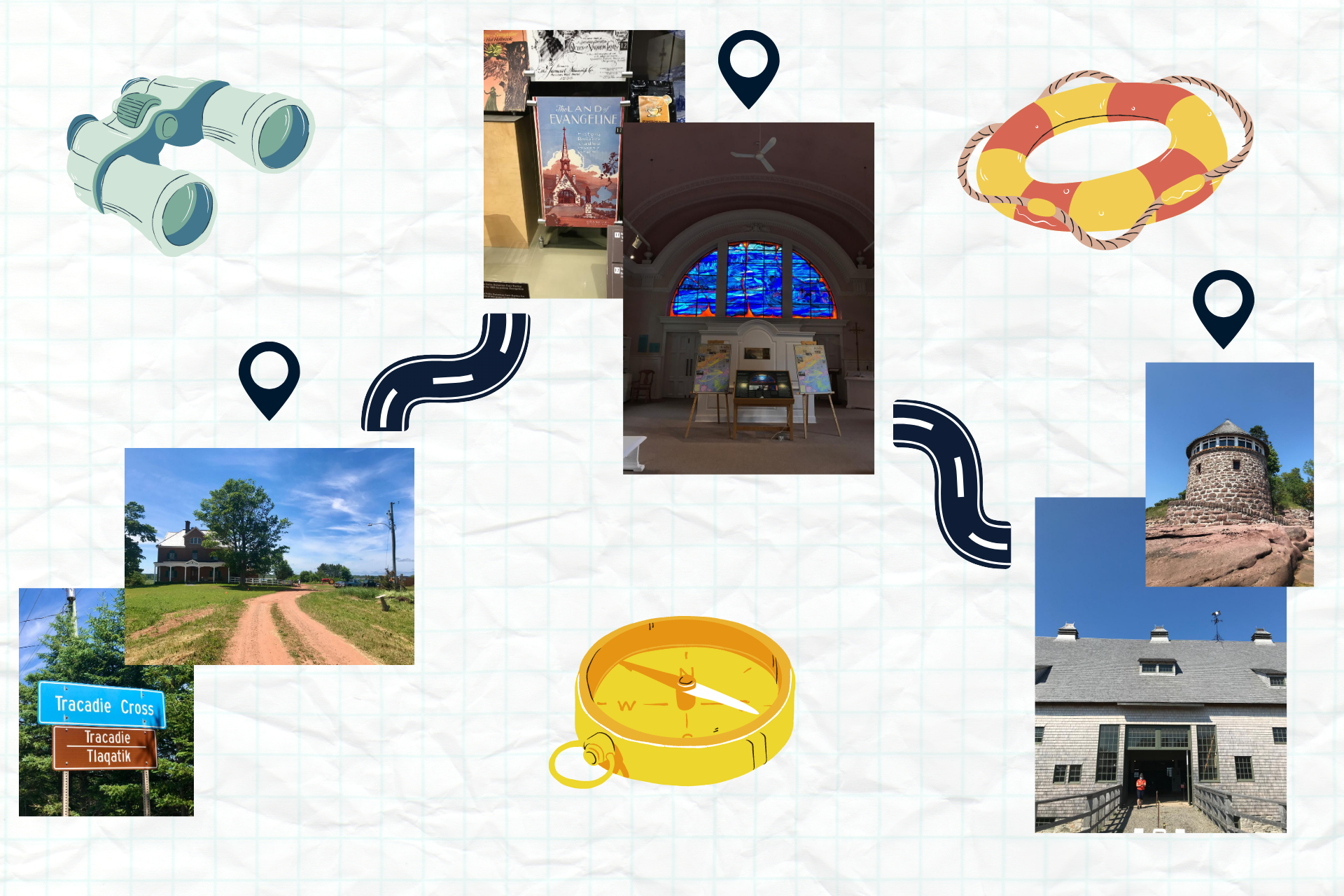 Molly's Must-See List – Atlantic Provinces Travel Bubble Edition
It goes without saying that 2020 has been a very strange year.
I personally kicked off January by moving to London, England and was expecting to be there until December. Well, in March I moved back to Prince Edward Island to ride out the pandemic in my home province. My dreams for any major 2020 travels were crushed.
Luckily, an Atlantic Provinces Travel Bubble (including New Brunswick, Nova Scotia, Prince Edward Island, and Newfoundland and Labrador) began in early July. It allows Atlantic Canadians to travel within the region without the need to self-isolate for 14 days.
I LOVE travelling through Atlantic Canada (although I haven't made it to Newfoundland and Labrador yet). There are so many amazing sights, bites, and experiences to take in. This list will share some of my favourite historic places you can check out on your "Travel Bubble" journeys.
*Make sure to pack some bug spray, hand sanitizer, a mask or two, and a bottle of water.*
Places
Belfast, Prince Edward Island
Built in 1845, the visually striking Point Prim Lighthouse is the first and oldest lighthouse on Prince Edward Island! It's an excellent example of the early establishment of coastal navigational aids and is one of only two lighthouses in Canada to combine a round form with brick construction. 
It also has an incredible restaurant called the Point Prim Chowderhouse right next door, so I would suggest making an afternoon of your visit!
Mount Stewart, Prince Edward Island
I grew up a few minutes away from Glenaladale Estate. It's a big source of pride for my hometown of Tracadie, and watching the Glenaladale Heritage Trust work to purchase and regenerate the Estate has been inspiring.
In the late 1700s, Captain John MacDonald, 8th Laird of Glenaladale and 7th Laird of Glenfinnan in Scotland, brought over the first Scottish Catholic settlers to what was then known as St. John's Island (now Prince Edward Island). 
Glenaladale Estate became his home, and it stayed in the MacDonald family for three generations. Capt. John's grandson Sir William Christopher MacDonald (McDonald) built the current house that sits on the Estate for his brother, the Hon. John Archibald. The three-storey brick house was designed at the firm of Hutchison and Steele in Montreal and it certainly stands out in our small, rural community.
Around 1904, the Estate was purchased by a MacKinnon family. They farmed, operated the Glenaladale Silver Black Fox Company, and were well known for their involvement with rum-running.
Also located on the property is the old Glenaladale (later Tracadie) School, which was in use from 1899 to 1960 (fun fact: both my grandfather and my mother attended this school). 
Although visitors are not allowed into the home this summer, there are beautiful grounds to explore/picnic on and you can always stop to have a chat with one of the summer students.
Grand Pré, Nova Scotia
Grand-Pré National Historic Site is incredibly important to Acadian people (I'm Acadian on my dad's side).  Declared a National Historic Site in 1982, it both commemorates the area as a centre of Acadian settlement and acts as one of the most significant memorials to the Acadian Expulsion during the 18th century.
Guests can take in immersive multimedia presentations and view artefacts in the Visitor Centre, but my favourite part of the site is the Commemorative Church. The stained glass window there is one of the most beautiful I've ever seen.
If you do find yourself at Grand-Pre, make sure to also check out some of the cool spots nearby. I love The Church Brewing Co., Benjamin Bridge, and the Annapolis Cider Company.
Lunenburg, Nova Scotia
In the late 1990s, the original St. John's Anglican Church in Lunenburg became a New England church and graveyard for the filming of Simon Birch. Simon Birch is based on A Prayer for Owen Meany, which was written by John Irving (one of my favourite authors).
According to production notes, the director of the film was "ecstatic" about Lunenburg because it "had the very fairy tale church he had envisioned." 
I do have to note that in  2001, a devastating fire demolished over 50% of the church's historic fabric. A four-year restoration followed the fire, returning the church to its pre-fire state.
Ministers Island, New Brunswick
I recently had the chance to visit the Van Horne Estate on Ministers Island and I have to admit, I was truly blown away. It's located just off the shore near St. Andrews and guests must drive across the seafloor to reach it (make sure you check the tide schedule in advance)!
Once there, you're able to explore the summer estate of Sir William Van Horne, the driving force behind the building of the Canadian Pacific Railway. There's a vast house, an enormous (and newly restored) barn, carriage lanes through the woods and fields, a bathhouse, and much more. My boyfriend and I spent almost three hours roaming around, taking in the views, and listening to the engaging tour guides.
If you're looking to find some food on your visit, there's a mobile kitchen called Bar Station (menus and information can be found online). I'd also recommend a takeout called The Clam Digger. It's only a few minutes away once you've driven off Ministers Island and their seafood platter was delicious!
Road Map
Belfast, Prince Edward Island to Ministers Island, New Brunswick