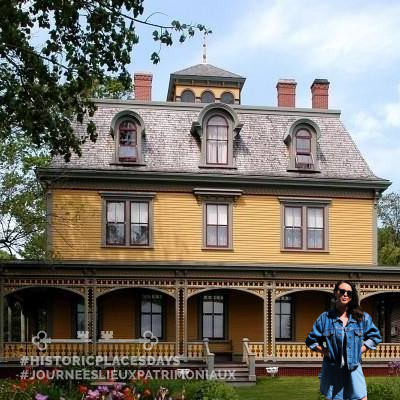 Molly's Must-See List – Atlantic Provinces Edition (Part Two!)
So, you've found yourself in Atlantic Canada. What now?
Well, consider yourself lucky because the East Coast is a pretty special spot.
I created a VisitList last year showcasing my top historic places to visit in the Atlantic Bubble. It only scratched the surface.
This VisitList is a continuation of my last one, highlighting even more places. Unfortunately, I still haven't made it to Newfoundland and Labrador. Hopefully the next time I create a VisitList that won't be the case!
I truly believe that there is a historic place for everyone… sometimes it just takes a little searching to find a spot that draws you in.
Start your adventure today!
Places
Charlottetown, Prince Edward Island
In 2019, I worked for the PEI Museum and Heritage Foundation. Their head office is located in the upper part of Beaconsfield Historic House, so I was able to visit there often. Designed and built by W.C. Harris in 1877 for James and Edith Peake, Beaconsfield was (and I would argue that it still is) one of Charlottetown's most elegant homes. It's a beautiful example of Victorian architecture with many original features. There are tours offered year-round and the PEI Museum and Heritage Foundation has offered some really neat events in the last little while. Plus it offers some pretty epic views (very Instagrammable).
Miramichi, New Brunswick
Here's the truth: I haven't actually made it to Beaubears Island yet. But I DID write about it for the National Trust many years ago and their dedication and creativity left a lasting impression! My first summer job was at an interactive historic village on PEI, so I have a soft spot for any historic places that have folks acting on site. Beaubears Island is sure to engage with tours led by characters and the opportunity to get out on the water in a 20-foot and 26-foot canoe. Something for everyone!
Lunenburg, Nova Scotia
I cannot express how much I love Lunenburg. I was lucky enough to get there last October and had a wonderful experience. I did lots of walking, admired some favourite buildings (Lunenburg Academy is a must-see), checked out cute shops (Dots & Loops), and had a delicious meal at the Salt Shaker Deli. I would highly recommend it to those visiting Atlantic Canada for the first time. It sounds silly, but Lunenburg really does have a special East Coast "vibe".
Road Map
Charlottetown, Prince Edward Island to Lunenburg, Nova Scotia