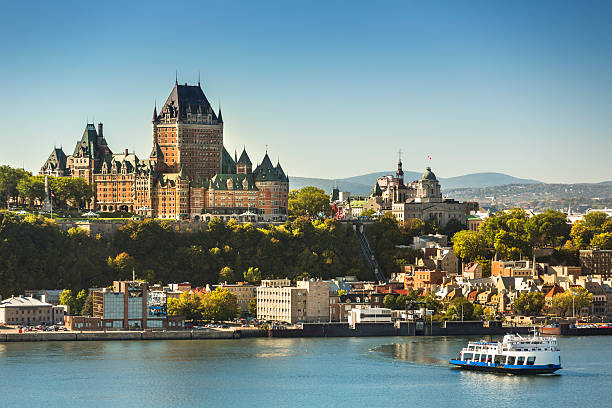 Looking Forward to Our Future, Learning from Our Past
To better, more fully appreciate each other, our heritages, struggles and basic human rights to be safe and have the opportunity to prosper, a journey of learning begins at the Canadian Museum of Human Rights in Winnipeg, MB. This unique, special museum is an exciting space that teaches of human rights, encourages respect of each other's differences, and furthers reflection and dialogue bridging people and communities whose beautiful diversity weave the composition of our beloved nation.
On we go to admire the only fortified city north of Mexico in North America, a site of abundant historical significance to Canada, and a place to delight in abundant cultural charms enhancing our country – the Old Quarter of très belle Quebec City. There are many beautiful sites to enjoy, and rich history to learn, in this gorgeous, charming region that has also been designated as a UNESCO world heritage site. In this region, we can visit the Plains of Abraham in Battlefield Park, now a gorgeous area to delight in but previously a site of bloody skirmish between the French and English in 1759-60 that contributed to the birth of Canada.
Our trip continues in another stunning region of Canada where the charming natural scenery is only rivalled by the natural charm, graciousness, and friendly warmth of local residents. Welcome to Atlantic Canada! Our fun begins by enjoying a spectacular drive on the Cabot Trail along the breathtaking coastal views of the Cape Breton Highlands in Nova Scotia. Before we depart, hopefully we are fortunate to enjoy some of the finest musical talent in the world by artists that call this beautiful area home. Our trip will conclude at Signal Hill, St. John's, Newfoundland and Labrador. This is the site of the final battle of The Seven Year War in North America, held in 1762 between the French and the English, the French finally surrendering to the English. Learning further of this final battle reminds us of the sacrifices people have made in the creation of Canada for it to become the glorious nation, with all its celebrated, diverse heritage, that we are fortunate and proud to be a part of today.
Places
St. John's, Newfoundland and Labrador
A final battle concludes and the birth of a great nation begins
Road Map
St. John's, Newfoundland and Labrador