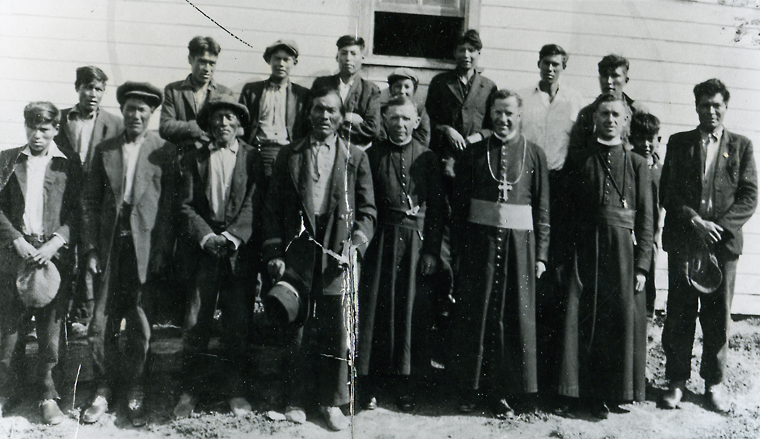 Lispaas Daashpaymoon Michif: Métis Places of Faith
This VisitList showcases a number of sites of spiritual and religious significance to the Métis people, from St. Boniface at the heart of Red River to the remote mission of Notre Dame de la Paix. These spaces provide a unique opportunity to learn about various aspects of Métis history and culture, and to explore the nuances of Métis lived religion. This is not an exhaustive list, but rather, a starting point for those interested in learning about the lived religion, spirituality, and faith of the Metis people.
---
If you asked a Métis person two hundred years ago how they viewed themselves religiously or spiritually, the overwhelming majority would have identified as some form of Christian; most were Catholic, although there was a sizable minority of Anglicans and Methodists. There were also some who identified more with Anishnabe or Cree practices, and at least one individual – Louison Cayen – was a devout skeptic of all of the above.
At first, it may seem odd to position Christianity as "traditional Métis spirituality," but the historical record bears this out. There are accounts of prayers in French and infant baptisms before the arrival of the first missionaries. And yet Métis were regularly admonished by missionaries for being "bad Catholics." Contemporary accounts were quick to point out that despite professing to be Christian, their actions betrayed far more faith in First Nations' beliefs and practices than their words would suggest. How does one navigate this apparent tension? 
The first thing we need to consider is that Christianity is not inherently European nor colonial. While Western European colonizers have historically exploited their version of Christianity to benefit colonial projects, this speaks more to how Christianity has been utilized throughout history than anything intrinsic to the religion itself.  After all, Christianity originated in the Middle East, and there are many Indigenous Christian traditions throughout that region, as well as in Africa (particularly Ethiopia) and India. Indigenous Christian traditions refers churches that spread organically and were taken up by their practitioners voluntarily, as opposed to being imposed by empires or states.  These traditions often blended and intertwined with local beliefs and customs, creating something distinct from the Western European model. Although an offshoot of Western Christianity, Métis lived religion seems to better fit the model of an Indigenous Christian Tradition. 
Moreover, religion and spirituality are not mutually exclusive. Indeed, for many Métis, they were viewed as complimentary. Sometimes, the relationship between these systems of belief was overt. For example, participation in First Nations ceremonies, using cedar and fir branches as palm fronds, and burning smudge as incense. In fact, in the early days, pemmican was used for the Eucharist instead of bread! Indigenous traditions regarding mutual support and sharing also became central to how the Métis understood and practiced their faith. 
Finally, religion and spirituality are not static. They are iterative processes that are filtered through the cultural and historical context in which they exist. They can both direct and be directed by changing circumstances, social norms, and ideals. They respond to new situations and adapt to new dynamics. This is because, far from being set in stone, religion is a lived experience. Understanding Métis religion, spirituality, and faith in terms of "lived religion" allows us to move beyond narrow, Western European conceptions of Christianity and understand how, according to religious studies scholar, Emelie Pigeon, for the Métis – and other Indigenous peoples – "[lived] Catholicism was a tool of identity formation, resistance to colonialism, and political action." 
Places
Winnipeg, Manitoba
Beyond just the garden, the St. Boniface cathedral, cemetery, and museum are situated at the beating heart of the Métis Nation. As the seat of a diocese that once covered the entire Northwest, St. Boniface represents an important religious hub to many Métis Catholics.  To this day, it remains an active parish, and many of its congregants continue to be Métis.
Saint Andrews, Manitoba
Built in 1849 by the Anglican Métis of the Lower Red River settlement, St. Andrew's may be the oldest still-standing church in Western Canada with services every week. While St. John's Cathedral in Winnipeg was established earlier (1825), by the 1850s, St. Andrew's had eclipsed St. John's in importance. In many ways, therefore, St. Andrew's occupies a similar significance to Anglican Métis as St. Boniface does for the Catholic community. To this day, it remains an active parish, and many of its congregants continue to be Métis.
St. Andrews, Manitoba
The Rectory's distinctive Red River architecture
Batoche, Saskatchewan
Although home to the parish of St. Antoine, the spiritual and cultural significance of Batoche is much broader and more profound than being just another church that the Métis attended. As a place where our ancestors lived, died, and are buried, this place holds spiritual meaning to the descendants of those who fought there. It is also part of our national consciousness as the place where we made our last stand in fighting for our rights. Today, it remains a popular attraction, and many travel from across the homeland to celebrate Back to Batoche, which always falls around the date of the Métis national holiday, St. Joseph's Day, on July 24th.
The site is also interesting from the perspective of lived religion, as the cooperation between Catholic Church and the Canadian Government in 1885 began a schism between the church and many in the community that – it could be argued – remains to this day.
Stanley Mission, Saskatchewan
Although not a Métis parish, Holy Trinity is unique and noteworthy when considering both lived religion and built heritage on the Northern Plains. One of the unique features of Stanley Mission is that it was not built by European colonists or missionaries. Nor was it built by Metis familiar with contemporary European building styles. Rather, it was built by the local Cree congregation. +That the oldest still-standing building in Saskatchewan is an Anglican Church built by the Cree invites us to interrogate our assumptions about what constitutes Indigenous built heritage. It also invites us to explore the complex, nuanced, and often fraught relationship between Indigenous peoples, Christianity, and Indigenous spirituality.
Alberta Beach, Alberta
One of the oldest continually used places of faith in what is modern-day Alberta, Lac Ste. Anne has been a sacred site for Metis, Cree and Nakoda for generations. Even before the arrival of missionaries at the site in 1844, the lake was an important settlement, gathering place, and sacred site. To this day, it remains the site of an annual pilgrimage and gathering.
St Vital Ave, St. Albert, Alberta, Canada
Established at the Métis settlement formerly known as Big Lake in 1861, the Lacombe Chapel at St. Albert. It quickly eclipsed the older Lac Ste. Anne parish and became the seat of the Diocese of St. Albert in 1871. For the Métis of the upper Saskatchewan and Athabasca districts, the Parish of St. Albert would come to occupy a similar role to St. Boniface in Red River.
Andrew, Alberta
Among protestants, Anglicans dominated Red River and the areas around Lake Winnipeg. However, they were much less active in the Upper Saskatchewan. In their place, Methodism served as the primary denomination for Protestants in this area, with many Anglican Métis in the district converting to the Methodist Church.
The Methodists are also noteworthy for the fact that many of their clergy were Indigenous, most notably Henry Bird Steinhaur.
Edmonton, Alberta
The distinction between pre-rail and post-rail Edmonton is significant, as the railway facilitated immigration on a scale never seen before. Prior to the railway, the population of the Edmonton District remained predominantly Indigenous. As such, the parishioners who attended the chapel at the 1846 Fort and the McDougall Church on 1885 Street would have been Métis, Cree, Nakoda, or Iroqouis for the most part. Also of note is the Bellerose School on 1885 Street, which was built for the purpose of educating Catholic Métis children at St. Albert.  These religious spaces – and the settings that surround them – can provide guests with a sense of the contexts in which Métis lived religion was practiced in the nineteenth century.
Alberta
Notre Dame de la Paix was a Roman Catholic Mission established near a Métis wintering village on the Elbow River in 1872. It was built by Métis lay brother, Alexis Cardinal, in the style of a Métis wintering cabin. Following the establishment of Fort Calgary in 1875, the mission was moved downriver to what is now the Mission District in Calgary. Although the mission was ostensibly established to preach to the Blackfoot, the missionaries frequently commented in their journals that most of their time was instead spent ministering to the Métis in the area. Indeed, prior to the railway, the majority of the congregation was made up of Cree-speaking Métis who inhabited nearby wintering sites or were settled in the emergent community of Calgary. Over time, the parish would eventually come to be known as St. Mary's, which remains an active parish and the seat of the Diocese of Calgary to this day.
While the original Notre Dame de la Paix structure no longer stands, one can see an example of an 1870s Metis wintering cabin in nearby Calgary. At Fort Calgary, the Hunt House and Metis Cabin are original buildings from this period that demonstrate this architectural style. There is also a more recent replica of Notre Dame de la Paix at Heritage Park Historical Village.
Calgary, Alberta
Behind the Deane House and across the Elbow River from the Fort Calgary Interpretive Centre sit two small cabins that tell the story of Métis in early Calgary. While these buildings do not represent places of faith, they are built in the same style as the early Notre Dame de la Paix Catholic Mission and other early places of faith in Southern Alberta
Calgary, Alberta
While the original Notre Dame de la Paix structure no longer stands, those interested in seeing what it would have looked like can visit a replica of the chapel in the Settlement area of Heritage Park Historical Village.
Road Map
Winnipeg, Manitoba to Calgary, Alberta