The unusual landforms of Writing-on-Stone / Áísínai'pi resulted from the dynamic interaction of geology, climate and time. The sedimentary rocks exposed in the Milk River valley were formed 85 million years ago at the edge of a great inland sea.  Huge volumes of meltwater began eroding the soft sandstone after the last ice age.  This is how the coulees and hoodoos you see today were formed.  The unique habitat created is suitable to many diverse species not typically found in surrounding areas.
In Blackfoot traditions, the world around us is the work of Náápi who gained his powers from the Creator. Náápi did a wonderful job making the land.  Special places like Writing-on-Stone / Áísínai'pi are here for a reason. This is where significant things happened to the ancestors of the Blackfoot.  This is where the ancient stories took place.
Prairie settlement has taken place on the lands surrounding Writing-on-Stone over the past 150 years. Today, a rural community sustained by ranching and farming exists. Many local families have close connections to the early settlers of the area, including the North-West Mounted Police. The local community was instrumental in the formation of Writing-on-Stone Provincial Park in 1957. Close working relationships between the park and community members are key to the long term protection of Writing-on-Stone / Áísínai'pi.
in July 2019, Writing-on-Stone Provincial Park became Canada's 20th UNESCO World Heritage Site.
Notes from "Frequencies of the Land: an Ancestral Invitation to meet the Land where it is in space and time"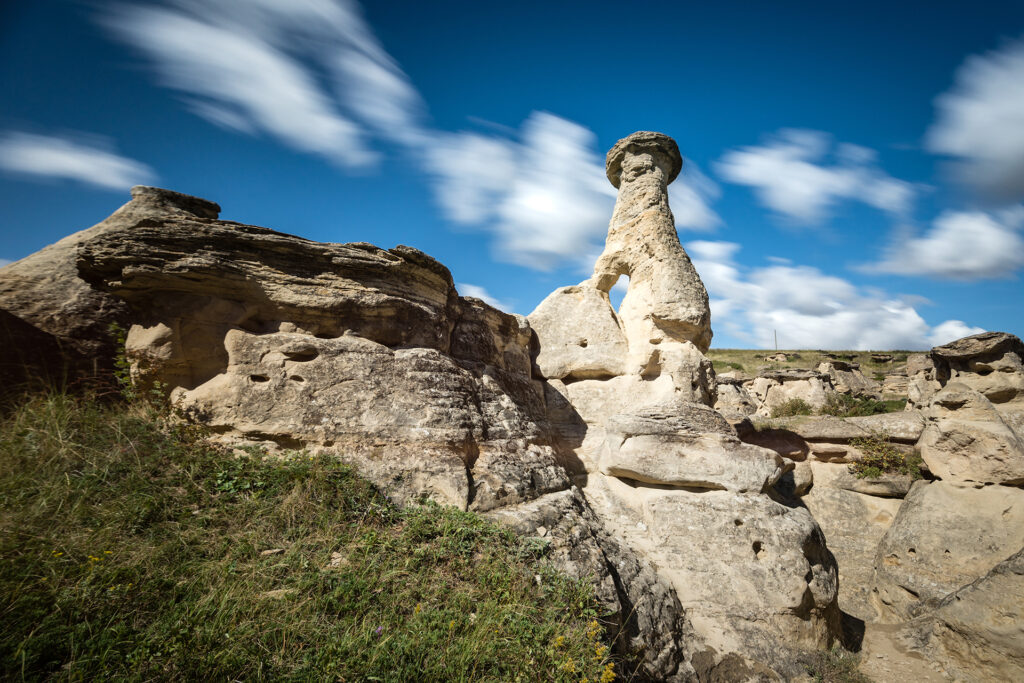 Áśíná'pi or "Writing-on-Stone" has been a confluence of story, spirit and ceremony for tens of thousands of years. The pictographs share stories of an ancient history in the Blackfoot style of image-based storytelling with symbols of historical "happenings" from a purely Indigenous world view. If the landscape doesn't enchant you, the soundscape most certainly will. From rattlesnakes, to traditional drumming, and storytelling from the interpreters at the park, you will be taken to another dimension whether you like it or not. Áśíná'pi is a place of peace and connection to the spirit. It always grounds me when I visit, and it will surely leave you feeling rejuvenated for your next journey.