The health and safety of visitors and employees is Parks Canada's top priority. Parks Canada continues to follow provincial public health measures. For more information regarding Parks Canada and Covid-19, visit https://www.pc.gc.ca/en/lhn-nhs/ns/halifax/visit/covid-19-info
It's obvious why this strategic hilltop location with a commanding view of the Halifax harbour was chosen in 1749 for the fort destined to protect the British naval base. The Halifax Citadel's star-shaped architecture is equally as impressive from the inside and out. Step back in time with the help of two costumed regiments, the 78th Highlanders and the 3rd Brigade Royal Artillery. Learn what it was like for the soldiers and their families to live and work in this historic fort during the time period of 1869. Tours, exhibits and films help tell the broader story from before establishment of Halifax to current day.
Halifax Citadel is a part of the Halifax Defence Complex and serves as the main anchor site for visitors to learn more about this time period. British and Canadian military forces built many forts and batteries over the years to protect Halifax and its harbour. Five of these fortifications, known as the Halifax Defence Complex, are national historic sites owned and operated by Parks Canada. These sites are being preserved and maintained for current and future generations to discover.
Notes from "Haunted Canada VisitList"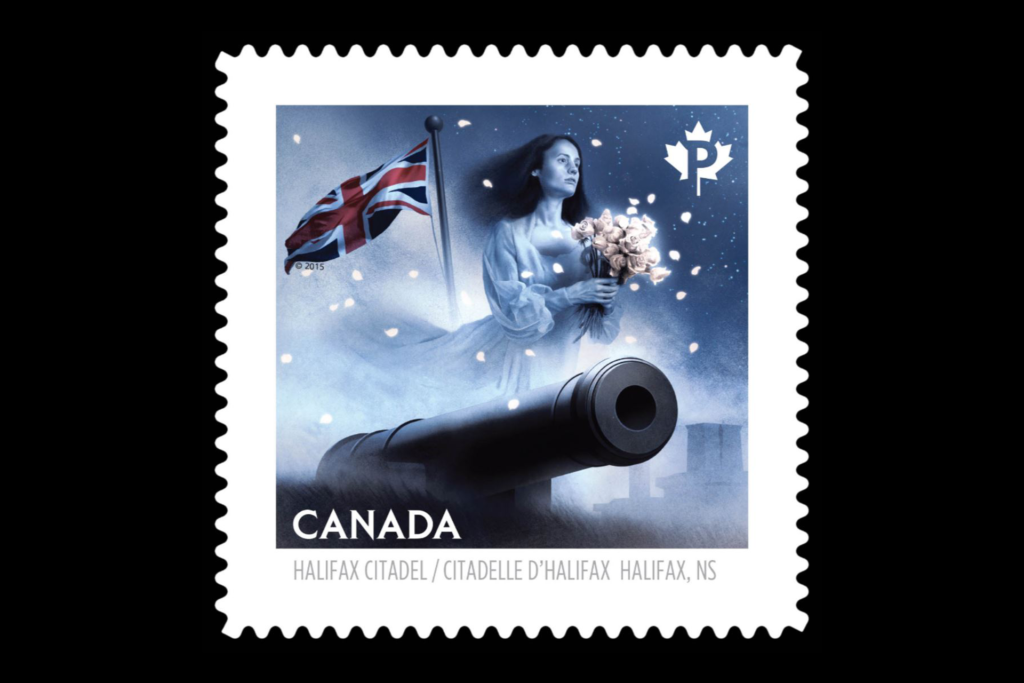 When visiting this hilltop fortress look out for the "Grey Lady", the apparition of a grieving women dressed in 19th-century clothing, leaving behind the smell of roses, has been experienced by many. It is rumoured that the "Grey Lady" roams the second floor of the Citadel's Cavalier Building at night, mourning the soldier she loved, who according to legend, killed himself the night before their wedding because he was already married to a different woman. Just like the Caribou Hotel and Winter Garden Theatre, the Halifax Citadel and the "Grey Lady" were featured in Canada Posts' haunted Canada stamp collection.
The Halifax Citadel hosts ghost tours starting mid-July through to the end of October. Click here for more info! 
Image from https://postagestampguide.com/canada/series/1672/haunted-canada.