Some Parks Canada Places have begun a safe, gradual reopening and resumption of limited visitor services. Visitors are encouraged to plan ahead and be well-prepared for their visit. For more details regarding hours of operation contact the site directly. For more information regarding Parks Canada and Covid-19, visit https://www.pc.gc.ca/en/lhn-nhs/ns/halifax/visit/covid-19-info
It's obvious why this strategic hilltop location with a commanding view of the Halifax harbour was chosen in 1749 for the fort destined to protect the British naval base. The Halifax Citadel's star-shaped architecture is equally as impressive from the inside and out. Step back in time with the help of two costumed regiments, the 78th Highlanders and the 3rd Brigade Royal Artillery. Learn what it was like for the soldiers and their families to live and work in this historic fort during the time period of 1869. Tours, exhibits and films help tell the broader story from before establishment of Halifax to current day.
Halifax Citadel is a part of the Halifax Defence Complex and serves as the main anchor site for visitors to learn more about this time period. British and Canadian military forces built many forts and batteries over the years to protect Halifax and its harbour. Five of these fortifications, known as the Halifax Defence Complex, are national historic sites owned and operated by Parks Canada. These sites are being preserved and maintained for current and future generations to discover.
Notes from "Best Places to Explore in Nova Scotia"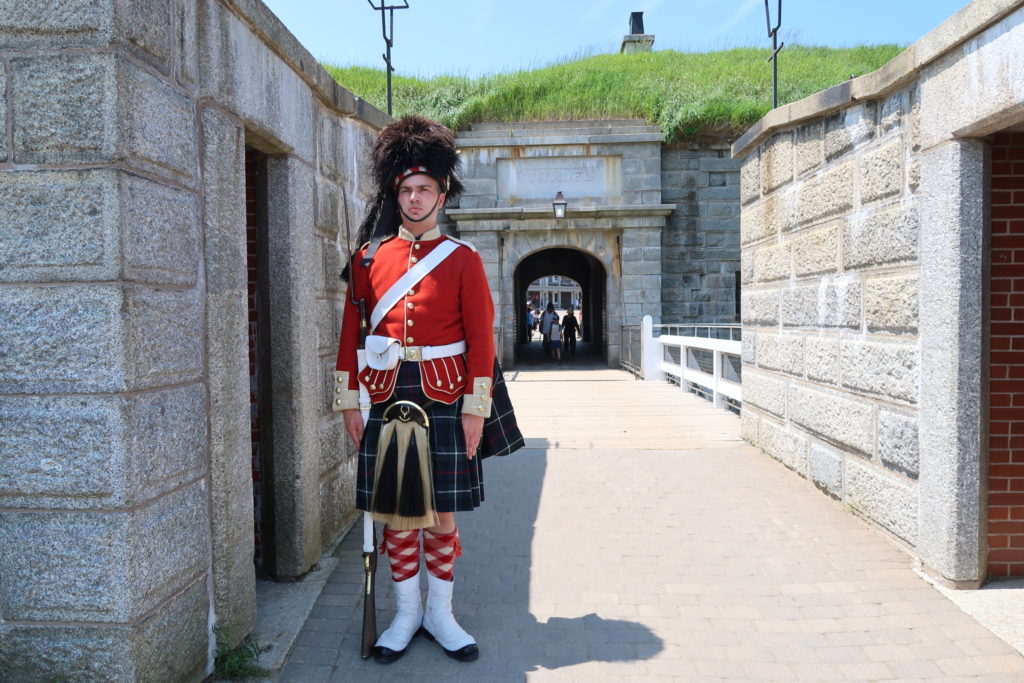 I think Citadel Hill National Historic site is one of the best historic sites to visit in Nova Scotia. Conveniently located in the middle of downtown Halifax where some version of this fort has stood since 1749 protecting the city. Halifax however was never attacked so the fortress was never actually needed.
The Citadel today operates with re-enactors from the 78th Highlander regime that stand guard. There are also others in costume from that same time period but dressed as civilians that can tour you around the fort or you can explore on your own.
One of the most exciting things that happens at the Citadel each day for me however is the firing of the noon day gun. This takes place everyday of the year at exactly 12noon except for Christmas day. The cannon was fired to originally signal the changing of the shifts and today it is now fired to help keep the people of Halifax on time and on their toes.