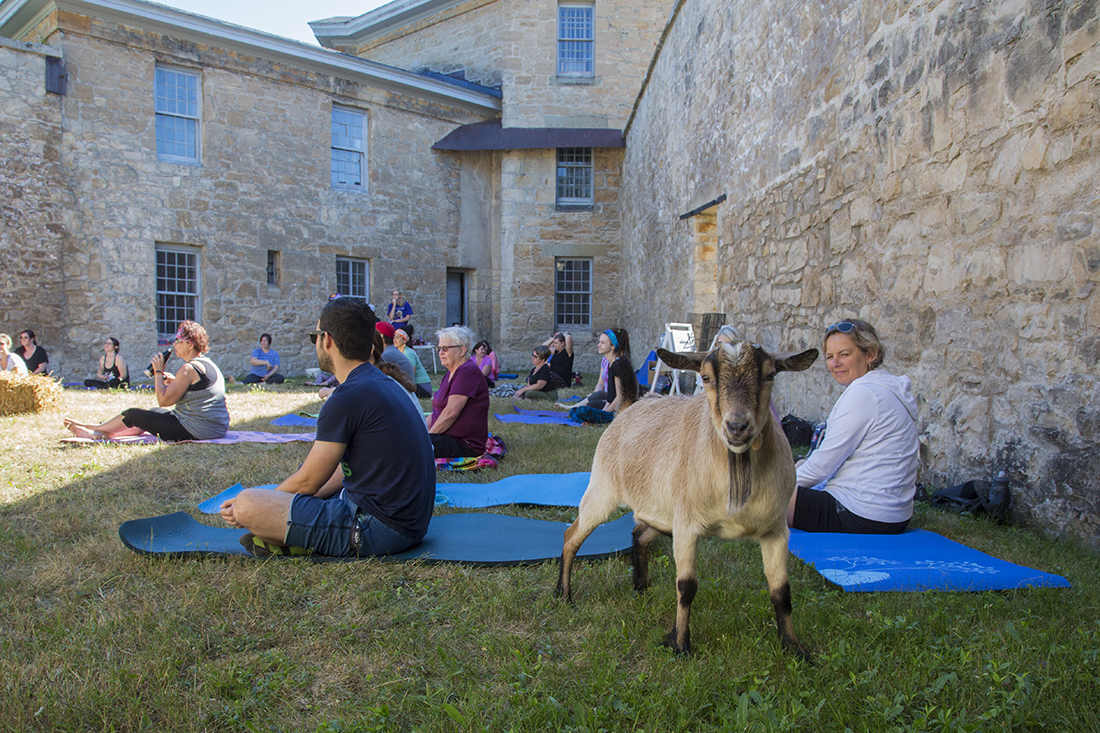 Four participating historic places that got creative on Canada Historic Places Day 2018
By Molly Pendergast
Fryfogel's Tavern Historic Site, Fryfogel, ON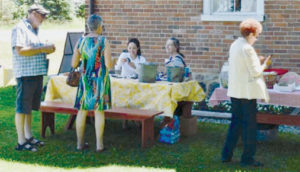 Fryfogel's Tavern has gone through a lifetime of changes. Built by Sebastian Fryfogel, Perth County's first settler, it has been a tavern, a family house, a place to store cheese, and a tea room. In 2017, it became a historic site for the public to enjoy.
The site is located on the side of the highway in Perth County. Engulfed by trees, it can appear hidden at times. Creating awareness about Fryfogel's Tavern as a historic site has been a challenge, so staff registered the site for Canada Historic Places Day in hopes of attracting more visitors.
Signs were set out at the road, and colourful balloons drew drivers in from the highway. All afternoon on July 7, staff ran activities on the site grounds, provided tours, and led games where children learned how to play Cat's Cradle and build rag dolls. Forty-two visitors dropped by to celebrate – a high number for the site.
First United Church, Truro, NS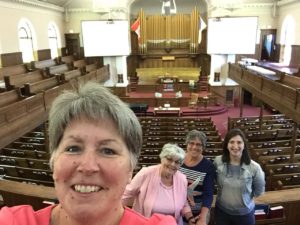 The bells rang out from the First United Church on Canada Historic Places Day 2018, where visitors and community members in Truro gathered to chat, listen to music, and admire the church's new windows. They had lots to celebrate and share with their community.
The church participated in the National Trust's 2017 This Place Matters crowdfunding competition, where they raised over $100,000 and won an additional $60,000 to put towards replacing and replicating windows – at about $25,000 each. Participating in Canada Historic Places Day was a great way to spotlight their successful restoration project.
Huron County Museum, Goderich, ON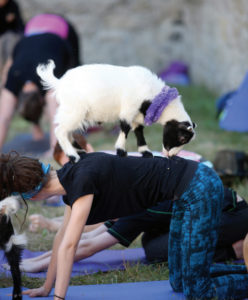 Since it opened in 1951, the Huron County Museum has tried to create a unique heritage experience while telling its story to visitors. Founder Joseph Herbert Neill had revolutionary ideas for his time, building intricate models that visitors could interact with and fueling a passion for hands-on engagement at the museum.
The museum took advantage of Canada Historic Places Day 2018 to try something truly unique and interactive. Goat yoga was held in the historic gaol's courtyards – a first for the site, which is operated by the museum. While visitors went into downward dog pose and stretched their limbs, friendly pygmy/ Nigerian goats explored the area, climbed on backs and cuddled with participants. The sold-out event was a massive hit.
Old Log Church Museum, Whitehorse, YT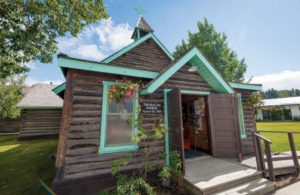 The Old Log Church Museum is one of Yukon's municipal and territorial historic sites, and the oldest structure on its original site still standing in Whitehorse. Operated by the Yukon Church Heritage Society, the museum opened in 1962 to tell the story of the Anglican church and its relationship to the people of Yukon.
"In Whitehorse, there isn't a lot of built heritage left," said Executive Director Kaitlin Normandin. Participating in a national celebration like Canada Historic Places Day was a way for the Old Log Church Museum to help make Whitehorse residents aware of the places they have in their own backyard.
Before the day, the museum promoted their participation in Canada Historic Places Day on their social media platforms and website. As a result of their efforts, CBC Yukon did a video segment on the Old Log Church Museum.
Of the 70 visitors who came to the museum that day, the majority were from Whitehorse – which staff consider a great success. Visitors attended a special architecture tour called "If These Walls Could Talk," made bowhead whale crafts, and enjoyed refreshments through the afternoon.