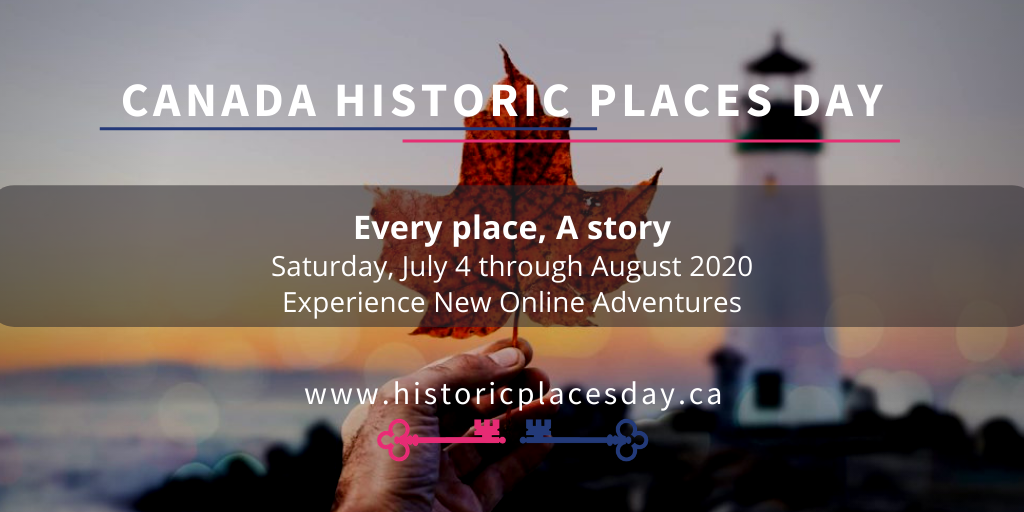 #HistoricPlacesDay is going virtual for the summer of 2020 – with new ways to share places that matter online!
Canada Historic Places Day 2020 is extending its timeline and ramping up its focus on online and virtual experiences, given that closures and social distancing may continue to affect historic places into the summer. Historic places across Canada have already been very creative this spring in bringing heritage experiences into the homes of Canadians, and this national celebration will continue to inspire and engage Canadians throughout the summer.
Canada Historic Places Day will launch on Saturday July 4, 2020 and continue to the end of August, with new virtual tools to enhance the celebration:  #HistoricPlacesDay will continue the popular Selfie Contest but with a new creative spin. Our month-long giveaway that asks Canadians what they love about Canada's historic places will run during the month of July.
New this summer, we are introducing Online Adventures that allow the staff and volunteers at historic places and individual Canadians alike to create online adventures that feature participating #HistoricPlacesDay sites. Here's an example: Imagine an adventure inspired by the Group of Seven. What better way to celebrate their 100th anniversary than to virtually visit the places that shaped their art and continue to tell their story? Canadians can 'visit' the Arts & Letters Club of Toronto where the Group met frequently for lunch, and then explore their artworks at the McMichael's eMuseum, featuring 1,233 pieces of art and objects associated with the Group's iconic story. Or imagine a university student sharing a virtual pub crawl through the Exchange District of Winnipeg, highlighting some of the historic places to enjoy a brew in that 20-block National Historic Site. It's hard to predict what adventures Canadians will upload to the site this summer, and that's part of the adventure. Online Adventures will be featured in August.
Since this national celebration will continue during July and August this year, we will be running a longer promotional campaign that includes working with social media influencers.
This will be a great summer for historic places, featuring exciting new ways to share places that matter with an even bigger audience – online!
Stay tuned for further details.